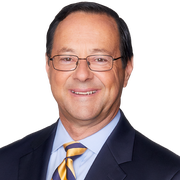 Bruce Gordon
General Assignment Reporter
Bruce Gordon joined the FOX 29 News team as a general assignment reporter in 1996.
Bruce kicked off his on-air TV career in Abilene, TX, working first for KTXS-TV as a sports anchor, then at KTAB-TV as a news reporter. In 1983, he moved to Austin, TX, for a reporting job with the CBS affiliate, KTBC-TV, and in 1987, left Texas for a job in St. Louis, MO. For seven years he focused first on consumer, then environmental reporting at KTVI-TV.
Bruce mapped out his career as a TV news reporter before he left high school. He anchored a weekly in-school TV news program at William Tennent High School in Warminster, Bucks County, PA. He continued broadcast work in college, doing radio play-by-play for Big Ten basketball (WNUR-FM) while attending Northwestern University's Medill School of Journalism in Evanston, IL. He graduated in 1981.
While in college, he wrote and produced radio newscasts and TV sportscasts for WGN Television and Radio, while frequently preparing broadcasts for legendary Cubs announcer Jack Brickhouse.
Bruce has won several Associated Press "Best Reporter" awards and received national recognition for an undercover report on pedophilia. He's a 10-time regional EMMY Award winner, including both the 2003 and 2004 awards for "Best Hard News Reporter."
Bruce lives in Delaware County, Pa., with his wife and three children.
A fire in Kensington destroyed two row homes and injured a Philadelphia firefighter. Investigators are trying to piece together what caused the blaze.
Fire officials say the blaze that engulfed the Philadelphia Energy Solutions complex Friday morning is contained, but not under control.
A dangerous start to the day for a lot of people in Camden, Gloucester and Burlington Counties as many drivers were caught off guard with water quickly washing over roadways.
As a full-time certified public accountant numbers are important to 80-year-old Harold Sampson. But late each morning in his home office, Sampson prepares for a midday ritual involving numbers that have taken over his life.
A Medford, New Jersey woman has been reunited with her pet turkey after she issued an $1,000 reward for anyone who found the fowl.
Amazon is showing off its new state-of-the-art fulfillment center in South Jersey. But, what does that mean for its neighbors? The mom and pop shops it'll be competing against?
FOX 29's Bruce Gordon discusses the investigation into alleged racist and violent social media posts of more than 300 current and former Philadelphia Police Department officers.
18-year-old Tommy Sweeney spent his entire four year high school career battling Acute Lymphomatic Leukemia. 
A sinkhole repair that has all-but-removed the intersection of 43rd and Baltimore Avenue in University City has everyone chirping.