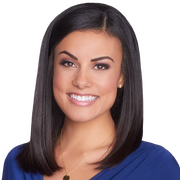 Shaina Humphries
Co-Anchor
Shaina Humphries joined the FOX 29 News team in February, 2019, as co-anchor of The FOX 29 News broadcasts weeknights at Five, Six, Ten and 11pm.  
Originally from suburban Chicago, Shaina comes to Philadelphia after spending several years as an anchor and reporter at KCCI-TV in Des Moines, Iowa. She began her career in 2012, after earning a master's degree from Northwestern University's Medill School of Journalism. She earned a bachelor's degree in broadcast journalism from the University of Illinois. 
While working for KCCI, Shaina experienced the excitement and chaos of covering four major election cycles in Iowa. She enjoyed the interesting and sometimes bizarre nature of Iowa's political landscape; as well as the access to candidates provided by the state's first-in-the-nation caucuses.
In 2017, Shaina led KCCI's yearlong State of Addiction initiative, reporting almost exclusively on Iowa's opioid addiction epidemic, in addition to her role as the station's 9pm anchor. During that time, she told dozens of stories about addiction, recovery and the complicated role of opioids in modern medicine. She hosted an Emmy-nominated 90-minute primetime special featuring families affected by opioid addiction, medical and healthcare professionals, local and federal law enforcement and emergency responders. She is most proud of these stories for the awareness they helped create in the community and the relationships formed in the process.  
More recently, Shaina was honored to receive an Upper Midwest Emmy Award for her work on a roundtable discussion about the early impact of the #MeToo movement. 
When she's not working, Shaina enjoys being active and getting outside. She picked up a love for biking in Iowa, especially while pedaling across the state each summer on RAGBRAI, (The Des Moines Register's Annual Great Bicycle Ride Across Iowa); and she once dabbled in running, completing the Chicago marathon before promptly retiring from the sport. She loves to travel and has a bucket list a mile long. She also loves her adopted Boston Terrier, Ellie.
The latest from Shaina Humphries