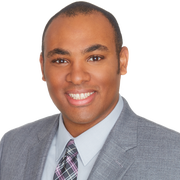 Dave Kinchen
General Assignment Reporter
Dave Kinchen joined the FOX 29 News team as a general assignment reporter in October, 2011.
Prior to moving to Philadelphia, he worked for nearly four years at the NBC affiliate in Flint, Michigan. He was the market's leading political reporter while also covering general assignment stories and serving as one of the station's weather forecasters. He anchored weekend newscasts as well.
Some of his favorite assignments include interviewing then-presidential candidate Barack Obama, former House Speaker Newt Gingrich, Ford Motor Company President Alan Mulally, and even playing guitar with legendary rocker Ted Nugent.
Dave's previous work in broadcasting includes reporting for two years at WNEM-TV in Saginaw, MI, and WLNS-TV in Lansing, MI. He began his career as a production assistant and staff writer for WXYZ-TV in Detroit, in between college semesters.
Dave also has experience related to public policy, working with organizations like the National League of Cities and the Michigan Municipal League.
Dave studied Political Theory and Constitutional Democracy along with journalism at Michigan State University. A history buff, Dave came to Philadelphia with a rich fascination of the pivotal role the city played in the birth of the United States, from the Second Continental Congress, which resulted in the Declaration of Independence, to the Constitutional Convention of 1787.
When not looking for the latest breaking story in the Delaware Valley, he's usually playing guitar and writing music. If not, you'll find him listening to some form of classic rock and blues.
The latest from Dave Kinchen
Police are searching for two men who allegedly caused an explosion at a gas station mini-mart last month in Mayfair.
Police in Bordentown, New Jersey are investigating after locals have reported finding stickers with offensive messages posted around the city.
Bensalem police are searching for two suspects in connection with a burglary on Vandegrift Lane. 
Authorities say a man brandishing a gun was fatally shot by police Thursday morning in Allentown.
A billboard located along I-76 near the Walt Whitman Bridge has posted a message about diabetes that has stirred up some controversy among those who see it.
A Montgomery County man was arrested after police say he opened fire on a vehicle, striking a 3-year-old child inside. 
The Philadelphia Water Department responded to a water main break around 7 a.m. Wednesday morning on South Street between 6th and 5th Street. The 12-inch main flooded several businesses and homes in the area. 
A man says that the motorized scooter, which helps with his disability was stolen from outside a plumbing business on Frankford in Kensington.
Police say six men and a woman were shot at a park in West Philadelphia Saturday night.