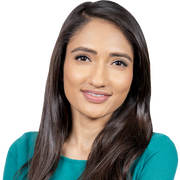 Sabina Kuriakose
General Assignment Reporter
Sabina Kuriakose is a general assignment reporter for FOX 29 News.
The latest from Sabina Kuriakose
The moment shots first rang out in a shooting that wounded six officers in North Philadelphia was all caught on home surveillance video.
A small helicopter crashes near an airport just outside of Allentown. Two people inside the helicopter walked away from the wreckage.
The Pennsylvania Department of Transportation announced Thursday that I-76 east will close over the weekend as crews work to repair the busy stretch of highway.
Authorities in Montgomery County have identified three family members from Penn Valley who died in a plane crash Thursday morning in Upper Moreland Township. 
Police in Camden County are looking for a man they say exposed himself to a woman in a Target parking lot earlier this week.
A tractor-trailer driver is expected to be okay after a crash involving two other vehicles sent the truck off the side of an I-295 overpass in Mount Laurel.
Flooding and damage caused by overnight rain and storms snarled traffic in New Jersey Thursday morning and caused PATCO to suspend service.
A business owner alleges a family of counterfeiters passed fake bills to buy expensive local wine.
New Castle County is one of the many areas cleaning up after Thursday night's severe weather.