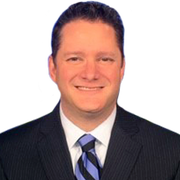 Jeff Robbins
Meteorologist / Weather Anchor
Jeff Robbins is a meteorologist and weather anchor for the FOX 29 News.
The latest from Jeff Robbins
Cool temperatures with a mix of sun and clouds is on tap for the Philadelphia area Sunday. High are expected to reach into the mid-to-high 60s and a slight chance of rain will increase in the evening hours.
After a weeks' worth of oppressive heat, the weekend will offer a much needed break from summer. 
The Philadelphia area can look forward to another perfect summer day on Sunday. Mild warmth and plenty of sunshine will cover the region as the weekend wraps up.
FOX 29 meteorologist Jeff Robbins predicts this weekend will be the best weekend of the summer across the Philadelphia area.
The hot and muggy conditions that have impacted the Philadelphia area over the last several days will continue Sunday, but relief is on the way!
Another day of sweltering heat and thick humidity is slated for Philadelphia and surrounding areas on Saturday. 
Another hot and sun-splashed day will cover most of the region Sunday.
Sunday will cap off a weekend filled with picturesque weather across the region, before a round of heavy rain impacts the Delaware Valley in the early work week.