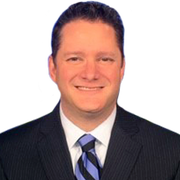 Jeff Robbins
Meteorologist / Weather Anchor
Jeff Robbins is a meteorologist and weather anchor for the FOX 29 News.
The latest from Jeff Robbins
A Winter Weather Advisory is in effect for the Philadelphia area Saturday, with snow transitioning to rain showers.
Jeff Robbins updates the FOX 29 Weather Authority seven-day forecast
FOX 29's Jeff Robbins delivers your 7-day forecast.
FOX 29 Meteorologist Jeff Robbins has a look at the Saturday snow forecast and the rest of your seven-day!
Jeff Robbins updates the Weather Authority 7-day forecast
The Philadelphia area is slated for record warm temperatures Saturday amid cloudy skies.
Jeff Robbins updates the weather forecast