3.1 magnitude earthquake rumbles Monmouth County early Wednesday morning
FREEHOLD, N.J. - Who felt it? It wasn't a jolt of morning coffee, or anyone's imagination running wild.
It was, in fact, an earthquake.
A 3.1 magnitude quake shook Monmouth County, New Jersey in the early morning hours of Wednesday.
There's just over 12,000 people in Freehold. A calm and, usually, quiet town where farm equipment is common and that small town feel is tangible.
But, around 2 a.m. Wednesday, calm and quiet was replaced by loud and disruptive.
"Saw the picture frame on the walls shaking. My cup of water on the table…I was like, 'Oh my god,'" stated one resident.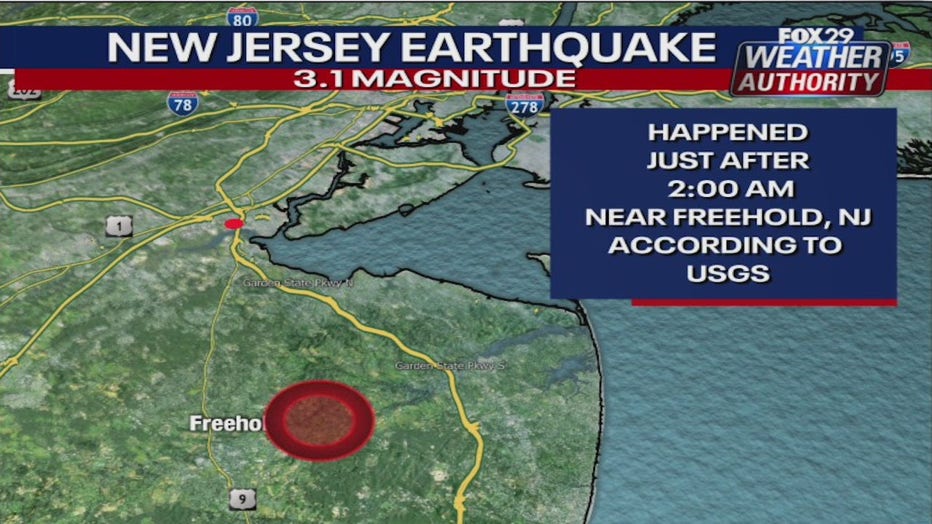 "Honestly, it felt like somebody was coming up the stairs and they were shaking," said another resident.
"I thought maybe it was a trains, but, uh, I don't live near train tracks. I was more confused than anything else," explained a third resident.
That confusion would all center around a 3.1 magnitude earthquake that seemingly rocked people out of bed, including school teacher Eric Lurie and his wife.
They live in the same neighborhood where the epicenter of the earthquake was recorded.
"It was crazy. We woke up at 2 a.m. The bed was shaking and we heard this really loud explosion. I thought a spring broke on my garage. That's kind of what it sounded like, it was really loud," Eric explained.
According to the United States Geological Survey, there were 32 earthquakes in the United States and surrounding countries in the past day, including Freehold, New Jersey.
While not the largest of the 32, it was still significant enough for nearly everyone in Freehold to confirm they felt it.
"I lived in California for, like, three years, so I immediately knew that's an earthquake," stated the first resident.
The Monmouth County Sheriff says people have good reason to be caught off guard.
"I don't think it's happened here since the 60s, in terms of magnitude, so we haven't felt anything like that around the Freehold area. It is highly unusual," Sheriff Shaun Golden stated.
___
For the latest local news, sports and weather, download the FOX 29 News app.
DOWNLOAD: FOX 29 NEWS APP
Sign up for emails from FOX 29, including our daily Good Day Digest newsletter!