Bensalem apartment fire affects 12 residences; no injuries reported
BENSALEM, Pa. - Residents of a Bensalem apartment complex are impacted as a fire races through a building in the complex.
Officials say multiple volunteer fire companies responded to the fire call Sunday, about 4:45 p.m. at the Franklin Commons Apartments.
"I heard like a big boom and my television blew out," said Franklin Commons resident Jovan Hogan.
The boom came from the roof of the unit next to Hogan, in the Franklin Commons Apartment complex on Hummingbird Land, in Bensalem, Bucks County, where a chunk of the roof over unit 17, 18, 19 and 20 is a gaping, charred hole.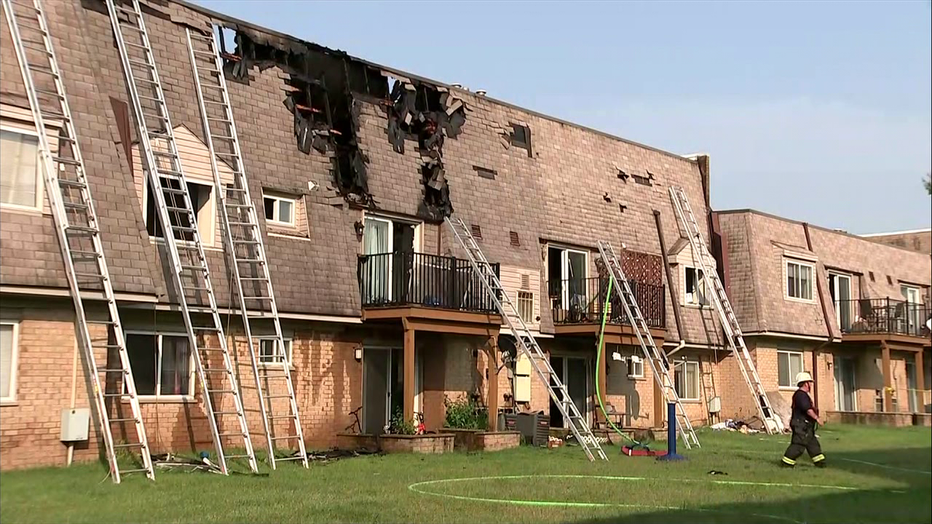 Apartment fire at Franklin Commons Apartments in Bensalem.
"Took a couple of minutes for us to smell burning," added Vikrama Billava.
"I went outside and I see everybody out here and it was just smokey over here, in the unit. I was like, 'Man,'" Hogan went on.
That was out front. Vikrama Billava went out back on his balcony and saw neighbors pointing up and shouting 'Look!'
He snatched his seven-year-old son straight out of the bathtub, gathered his wife and baby girl and ran out.
"And we started knocking on the doors," Billava said.
The fire was quickly contained and 12 units in all damaged, nobody hurt.
"You guys feel lucky, don't you?" asked FOX 29's Joyce Evans.
"Yes, lucky there's no harm for any one of us," Billava replied.
"I'm just glad I'm cool. Glad I'm all right. This is just a helluva Sunday," Hogan added.