Ex-Philly cop Ryan Pownall charged with homicide in fatal on-duty shooting
PHILADELPHIA (WTXF) - Former Philadelphia Police Officer Ryan Pownal lhas been charged with criminal homicide in connection with the 2017 shooting death of 30-year-old David Jones.
Philadelphia District Attorney Larry Krasner announced the charge, which stemmed from the recommendations made by an investigating grand jury, Tuesday morning.
Authorities say Pownall fatally shot Jones on June 8, 2017, after stopping Jones for riding a dirt bike on Whitaker Avenue in North Philadelphia.
Krasner recounted the events leading up to Jones' death, per the grand jury's presentment.
Pownall, who was on duty at the time, was transporting a father and his two children to the police department's Special Victim's Unit for an interview about a crime committed against one of the children. Instead of following police protocol and continuing to SVU, Pownall cut across oncoming traffic and approached Jones.
---
RELATED COVERAGE:
Officer in David Jones' shooting suspended with intent to dismiss
Activists want broader probe of man shot in back by police
---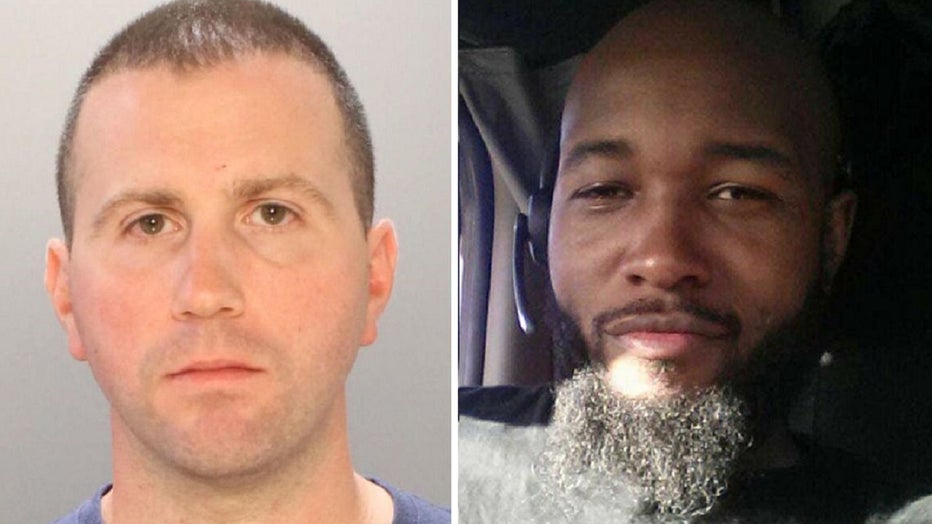 Ryan Pownall is charged with third-degree murder in the slaying of 30-year-old David Jones.
Pownall frisked Jones and felt a firearm, which lead to a physical altercation. Pownall then attempted to shoot Jones, but his gun jammed. Jones threw his gun away from the confrontation, according to what Pownall told his fellow officer immediately following the shooting.
Jones broke free and ran away from Pownall before being fatally shot in the back. The moment was captured on surveillance video.
Authorities recovered Jones' firearm about 25 feet away from the altercation.
Pownall, a 12-year veteran of the force, was suspended and subsequently fired in the wake of the shooting.
Philadelphia Police Commissioner Richard Ross has previously indicated that Pownall violated protocol when he initially stopped Jones with a victim and witnesses in the back of his patrol car. Ross says he also failed to notify police radio of the traffic stop and did not call for backup.
"In order to fire at a fleeing suspect, there must be an imminent threat of death of serious physical injury to the officer or another person," Ross said, adding that because Jones never looked back and his hands were empty, he "posed no imminent or immediate threat to Pownall."
In addition to criminal homicide, Pownall has been charged with reckless endangerment. Under state law, Pownall's homicide charge means that he will not be eligible for bail. He has yet to be arrianged.
John McNesby, president of Fraternal Order Police Lodge #5, called the charges an "absolute disgrace," claiming that Tuesday's indictment illustrates Krasner's "anti-law enforcement agenda."
The Philadelphia Coalition for a Just District Attorney applauded Krasner for "treating police killings of our neighbors as the serious violation that they are."
"Mr. Krasner is telling thousands of Philadelphians that police should not have a protected status and must be held accountable for the violence they enact in our communities," the coalition said in a statement.
"In a city that is majority people of color, holding the police accountable for this violence is a major piece of building trust and truly improving public safety."
___
For the latest local news, sports and weather, download the FOX 29 News app.
DOWNLOAD: FOX 29 NEWS APP