Jason Kelce gets emotional discussing his mother's Super Bowl week: 'She was on top of the world'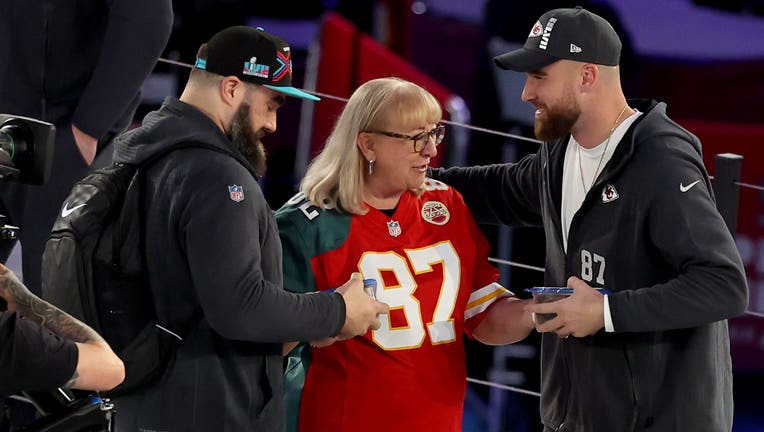 article
PHILADELPHIA - Jason Kelce and his brother Travis are sharing more about their experience facing one another in Super Bowl LVII and the role their mother played all week. 
The Eagles center and Chiefs tight end discussed the game on the newest episode of their 'New Heights' podcast released on Wednesday.
'The moment I saw mom is when I got really emotional," Jason explained while describing his reaction after the game. 
"It was so awesome," he added as he began to break down into tears. "She was on top of the world for a week!"
"She was the heavyweight champ man," Travis chimed in. "She was on top of it, and she shined the whole time man. That was the coolest part."
Jason went on to explain how great it was to get to see his mother, and their father, get to celebrate with both of their sons.   
MORE HEADLINES: 
"Ironically, you know, you lose the Super Bowl and you're crying after the game and they're not tears of sadness, they're tears of joy," Jason added. 
On Tuesday,  the NFL shared video of Donna Kelce catching up to both Jason and Travis on the field after the game. 
During the celebration, Donna and Travis embraced one another with a big hug. 
"How about this, mom?" Travis said. "You had the week of my life, I've had the year of my life!"
Travis later goes on the elaborate that it was the best year of his life in part because of the extra time he got to spend catching up with his brother on their weekly podcast.
"To see the script, or however you wanna call it, play out like it did and to be set in schedule every single week to talk it over with you man - that was something I could have never drew up," Travis explained. 
Video of the celebration after the game also showed Jason on the field, scanning to find his parents. 
Upon seeing his mom, the two share a big hug as Jason tells her 'I love you' and 'good job.'
"It was so fun watching you all week," Jason added as he continued to hug his mom. 
He then tells her to go and celebrate the win with Travis. 
Donna Kelce was certainly among the stars on Super Bowl week. Photos of her mutually supportive outfit went viral on social media. She even spent at least part of the game seated next to NFL Commissioner Roger Goodell. 
On top of all of that, she has even more excitement to look forward to as Jason and his wife Kylie prepare to welcome their third child into the world.