Memorial held for pregnant woman killed by suspected DUI driver in Anaheim; daughter makes progress in ICU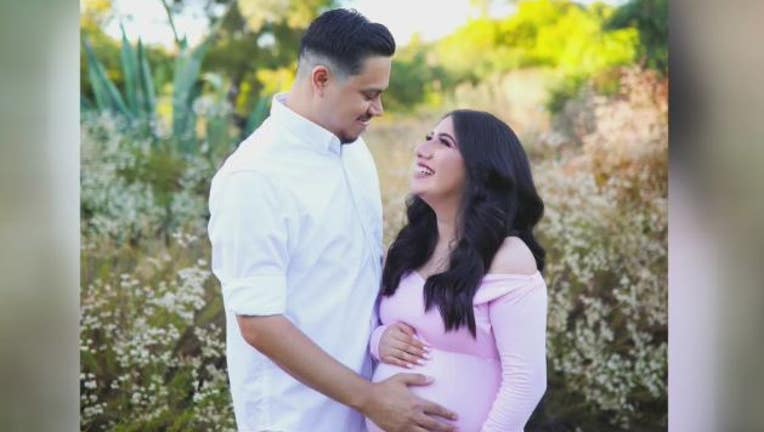 article
ANAHEIM, Calif. - An emotional vigil was held Thursday night for 23-year-old Yesenia Lisette Aguilar, who was killed Tuesday by a suspected DUI driver. 
Aguilar, who was 35-weeks pregnant with a girl, was walking down Katella Avenue with her husband when a Jeep jumped the curb and struck her.
Aguilar was taken to the hospital and an emergency C-section was performed to deliver the baby. Aguilar passed away and her baby, Adalyn Rose, is in the ICU in critical condition.
But, she is making great progress. Her father, James Alvarez told FOX 11 that Adalyn Rose is now breathing on her own and she has opened her eyes.
Alvarez says she is even responding to the sound of his voice. 
"That was the strength I needed to realize I have to push through; I have to get through this hard time I'm facing," said husband and father James Alvarez. 
"When she listened to my voice she looked to see where I was at, and I would tell her 'I'm right here, I'm never going to let you go'." 
RELATED: Pregnant woman killed by suspected drunk driver in Anaheim; doctors work round the clock to save baby girl
Alvarez shared the baby's update with those who attended the memorial.  
Dozens of people gathered for Aguilar's memorial to honor and remember the soon-to-be mother. 
"Everybody just loved her, she was just so nice," said Aguilar's co-worker Frances Morales. 
Aguilar worked at Disneyland at the front ticket gate. 
"It's really sad she's not here now with her baby," said another co-worker. 
RELATED: Driver charged with murder after DUI crash that killed pregnant woman in Anaheim
Meanwhile, the suspected DUI driver has been identified as 40-year-old Courtney Fritz Pandolfi of Garden Grove. She has been charged with one felony count of murder, one felony count of driving under the influence of drugs causing injury, and one misdemeanor count of driving on a suspended license. 
She faces a maximum sentence of life if convicted on all charges.
Get breaking news alerts in the FOX 11 News app. Download for iOS or Android.