Notable celebrities, leaders and figures who have been diagnosed with the novel coronavirus
LOS ANGELES - Top political leaders, talented athletes and A-list entertainers are among those who have tested positive for COVID-19.

Actors, entertainers, athletes and media personalities
Todd McShay
ESPN's NFL Draft analyst Todd McShay announced he wouldn't;t be working the 2020 draft because he would still be recovering from the novel coronavirus.

Babyface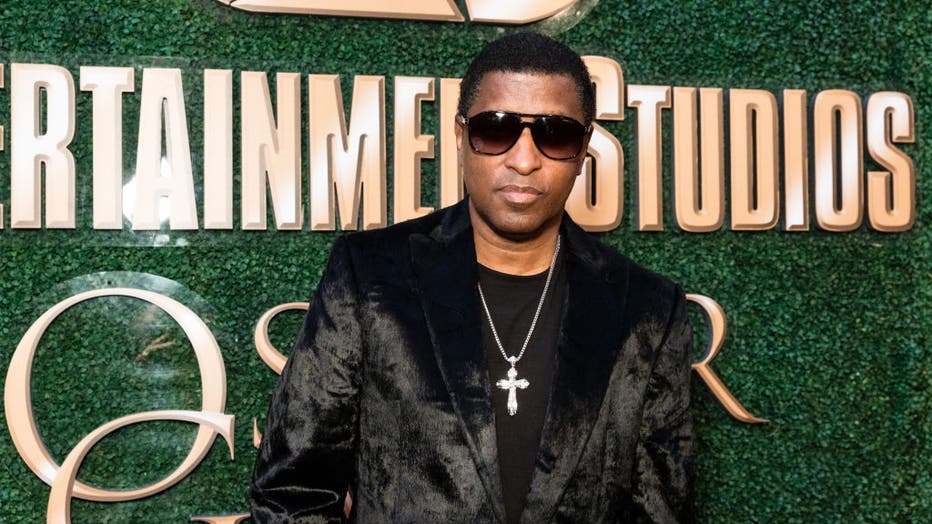 LOS ANGELES, CALIFORNIA - FEBRUARY 09: Kenny "Babyface" Edmonds attends Byron Allen's 4th Annual Oscar Gala to Benefit Children's Hospital Los Angeles at the Beverly Wilshire, A Four Seasons Hotel on February 09, 2020 in Los Angeles, California. (Pho
Babyface announced on April 11 that he and his family had contracted the novel coronavirus.
P!nk
Singer/songwriter P!nk announced on Twitter that she tested positive for COVID-19 in March after both she and her 3-year-old son Jameson became symptomatic. "My family was already sheltering at home and continued to do so for the last two weeks following the instruction of our doctor." She went on to say that she has since been tested again, the results of the second test were negative. 
P!nk expressed her support for healthcare workers who are battling coronavirus on the front lines. She also announced she is donating $500,000 to the Temple University Hospital Emergency Fund in Philadelphia in honor of her mother, who worked at the hospital for 18 years, and an additional $500,000 to the City of Los Angeles Mayor's Emergency COVID-19 Crisis Fund.
Brooke Baldwin 
The CNN anchor announced on Instagram that she had tested positive for COVID-19. 
Chris Cuomo

The CNN broadcast journalist and brother of New York Governor Andrew Cuomo announced on Twitter that he had tested positive for the novel coronavirus. 
Christopher Cross

The Grammy-winning musician announced he had tested positive for COVID-19 on Friday, April 3. 

Patrick McEnroe

McEnroe, a former professional tennis player and brother of John McEnroe, announced that he had been diagnosed with COVID-19 on Tuesday.


Mark Blum

The "Desperately Seeking Susan" and "Crocodile Dundee" star was reported to have died from coronavirus complications. He was 69. 

Chef Floyd Cardoz
Chef Floyd Cardoz, who competed on "Top Chef," won "Top Chef Masters" and operated successful restaurants in both India and New York, died Wednesday of complications from the coronavirus, his company said in a statement. He was 59.
Cardoz had traveled from Mumbai to New York through Frankfurt, Germany, on March 8. He was admitted a week ago to Mountainside Medical Center in Montclair, New Jersey, with a fever and subsequently tested positive for Covid-19, the statement said.
Slim Thug
The Houston rapper announced on Instagram that he has tested positive for COVID-19. 
Slim posted a video where he said he is now feeling better pleading with his fans to stay home. 
"The other day, I got tested for the coronavirus, yesterday, and it came back positive," the rapper said in his IG video. "As careful as I have been self-quarantining, staying home, I might have gotten something to eat or something like that ... nothing crazy. Stayed in my truck, had mask, gloves, everything on, and my test came back positive. So y'all gotta take this stuff serious." he said. "Sit home, self-quarantine, do not come outside for however long they saying. If you have symptoms you need to go get checked out."
Slim will share updates about his experience on Isiah Factor Uncensored Tuesday night at 10:30 p.m.
Harvey Weinstein

The former film producer who was sentenced to 23 years in prison in March after being found guilty on rape and sexual assault charges was reported to have tested positive for COVID-19.

Andy Cohen

The host of Bravo's "Watch What Happens Live with Andy Cohen" announced in an Instagram post that he tested positive for the novel coronavirus.
Sean Payton
The head coach of the New Orleans Saints tested positive for the novel coronavirus.

Daniel Dae Kim
The "Lost" star announced on Instagram on Thursday, March 19, that he had been diagnosed with COVID-19. 
"Looks like i'll be ok, but I wanted to share my journey with you in hopes that yo ufind it informative or helpful," the actor wrote. 
Kim explained that he began to feel sypmtoms after returning home from New York where he was "ironically" on set as a doctor treating patients during a flu pandemic.
When returning to his home in Hawaii, Kim added that he noticed "scratchiness" in his throat," before ultimately getting worse.
"It's important for you guys to know that I was asymptomatic during all of this time," Kim said. 
"For all those out there, especially teenagers and millennials who think this is not serious, please know that it is," he said in the 10-minute Instagram video. "And if you treat this without care, you are potentially endangering the lives of millions of people, including your loved ones. So for the sake of everyone else, please follow the guidelines: socially distance, self-isolate, stop touching your face, and of course, wash your hands."
Kevin Durant
On Tuesday, March 17, the Brooklyn Nets basketball player was reported to have tested positive for the novel coronavirus.
Kristofer Hivju

The "Game of Thrones" actor announced on Monday, March 16 that he had been diagnosed but that he has "mild symptoms of a cold."
 Idris Elba

The actor posted a video on his Twitter feed announcing to his fans that he tested positive for COVID-19. 
Elba said he didn't have any symptoms but got tested because he found out he was exposed to someone who had tested positive for the virus.
"I feel ok, I have no symptoms so far but have been isolated since I found out about my possible exposure to the virus," Elba said. 
Tom Hanks and Rita Wilson

Oscar winner Tom Hanks announced on March 11 that he and his wife, actress Rita Wilson, tested positive for the novel coronavirus. The couple were in isolation and in stable condition as of March 15.
RELATED LINK: Tom Hanks, Rita Wilson taking diagnoses 'one day at a time'
Olga Kurylenko 

Kurylenko, an actress best known for her role in the James Bond film "Quantum of Solace," announced on March 15 that she had tested positive.
Rudy Gobert and Donovan Mitchell

The Utah Jazz players were the first in the NBA to have tested positive for COVID-19. Gobert's diagnosis caused a viral stir after a video was released of him touching multiple microphones at a press conference. Gobert has since updated the public on his condition.
On March 27, after fourteen days of isolation from being tested from COVID-19, the Utah Jazz announced that all its players and staff have "completed their respective periods of isolation and quarantine and have been cleared by the Utah Department of Health."
Even after being cleared by health officials, all Jazz players will continue to practice social distancing in accordance with recommendations by the NBA and the Centers for Disease Control.
RELATED: CoronavirusNOW.com, FOX launches national hub for COVID-19 news and updates.

Notable leaders and political figures
Boris Johnson

The Prime Minister of the United Kingdom posted a video to Twitter on Friday announcing that he had tested positive for the novel coronavirus.
Prince Charles

The Prince of Wales and heir to the British throne tested positive for COVID-19. His wife Camilla, the Duchess of Cornwall, tested negative.

Rand Paul

On March 22, the Twitter account for U.S. Senator Rand Paul announced that the Kentucky legislator had tested positive for COVID-19.
Sophie Trudeau 

Sophie, wife of Canadian Prime Minister Justin Trudeau, tested positive for COVID-19 on March 12.