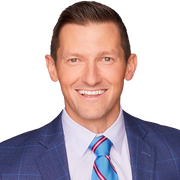 Richard Curtis is host of "The ClassH-Room," a half-hour, weekday game show that debuted Oct. 1, 2018 and now airs weeknights at 6:30 p.m.
Richard, a K-12 STEAM Coordinator for New Hope-Solebury School District, rose to the national spotlight in 2016 as winner of the "Live! With Kelly" co-host competition. After hosting multiple episodes, he began working with various television outlets, including the summer of 2017 on FOX 29's "Good Day Philadelphia."
He is also the host of Varsity Spirits National Dance Championships on ESPN/ESPN2 and CBS Sports.
A graduate of Millersville University, Richard lives in Bucks County, Pa., with his wife Lindsay, and two great kids who keep him running and constantly smiling!