Movie Review: "Spotlight" a Pure Triumph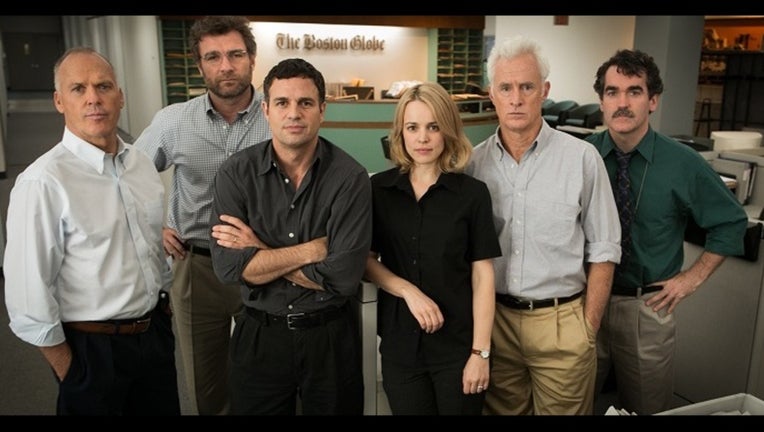 PHILADELPHIA- WTXF - Spotlight, the new film about the Boston Globe's investigation into child sex abuse in that city's Catholic Archdiosese, comes touted as a celebration of shoe-leather reporting and journalistic triumph, in the tradition of All the President's Men.
It is all that, and succeeds brilliantly at it. But it's also much more: An acting showcase, a character study and as a study of the city of Boston itself.
The film tells the story of the respected investigative journalism team at the Boston Globe which, starting in 2001, wrote a series of stories on the Boston Archdiosese's years of covering up for abusive priests that won them Pulitzer Prizes. The team is played by Michael Keaton, Mark Ruffalo, Rachel McAdams and Brian D'Arcy-James, with Liev Schrieber as their editor Marty Baron. And just like All the President's Men, they've got a Ben Bradlee (John Slattery as then-Globe editor Ben Bradlee, Jr.)
This cast is solid across the board, as are such first-rate character actors as Len Cariou (as Cardinal Law), Jamey Sheridan and Paul Guilfoyle as powerful men representing the church, and Stanley Tucci, in a fantastic performance as a jittery lawyer for victims.
The journalistic shoe-leather stuff is fantastic, and the character work very good too- Ruffalo, as has so often been the case in recent years, in everything from The Avengers to The Normal Heart- is the best character of all, who gets the movie's two best scenes.
A lot of movies in recent years, especially in the crime genre, have tried to commentate on class issues in the city of Boston. But Spotlight might be the best at it of them all. Look at the way, specifically, it depicts poorer people and richer people, through the lens of their relationship with the Church. And how Keaton's Walter Robinson is treated as a member of the elite, who it's assumed will go along with cover-ups.
Director Tom McCarthy, a director of outstanding little films like The Station Agent, the Visitor and Win Win, though this is his best film to date. McCarthy, by the way, has two big things to atone for: His part in the infamous newspaper subplot in the fifth season of The Wire, and The Cobbler, the odious Adam Sandler movie from earlier this year that he also directed.
The Cobbler may be the worst movie of the year, but Spotlight is one of the best.