4 shot while walking to prom party in West Philadelphia, police say
PHILADELPHIA - Authorities say four people, including two teens, were shot while walking to a prom send-off party Wednesday night in Philadelphia. 
Officers from the Philadelphia Police Department responded to the 3500 block of Fairmount Avenue around 7 p.m. for reports of a shooting. 
Chief Inspector Scott Small told reporters that a 19-year-old man was struck in the side and brought to the hospital by police in critical condition. 
A 19-year-old girl, her 34-year-old mother and a 60-year-old man suffered non-fatal gunshot wounds to the legs, Small said.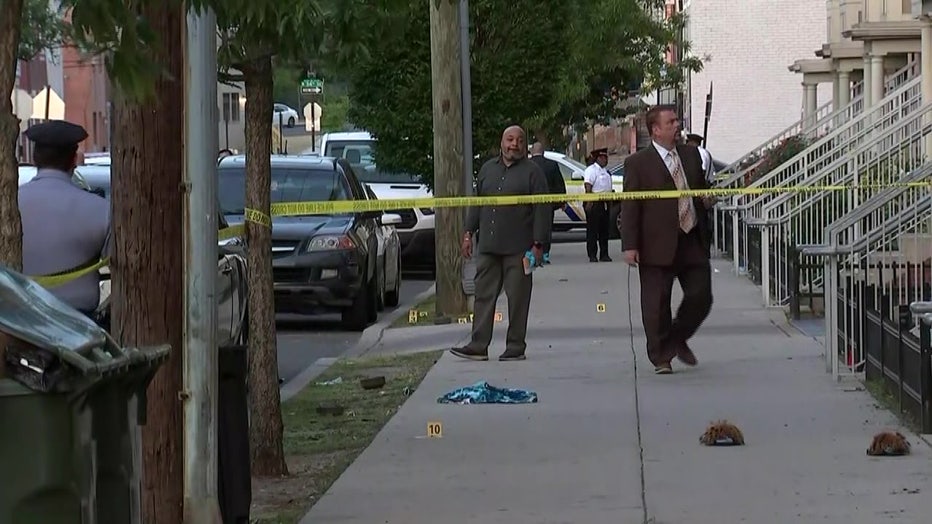 Investigators believe the shooting happened when two young men were outside, one of whom is the 19-year-old victim, near the prom party, talking to each other and as they were chatting, a male, who appeared to be in his early 20s, pulls up on a bicycle. It's at this time, Philadelphia Police Captain Walker says, one of the two men talking pulls out a gun and shoots at the man on the bicycle. He returns fire, striking the 19-year-old victim. During the crossfire, the three other victims were hit.
"They were about to send this young male and female, they were going to go to a prom, and that's why everyone was getting together and having a party," Small said.
The entire shooting was captured on surveillance camera from a property that's owned by the Philadelphia Housing Authority, Small said. 
It's believed that the 19-year-old man was the shooter's intended target and the other three were hit by stray gunfire.
Captain Walker went on to say the three people hit by stray gunfire were collateral damage.
"We have people in the community disrupting a very great thing that was going on out there in the community. I mean, it's almost like a rite of passage into adulthood. When you're going to a party, a lot of these communities have these events and we do not want them to stop these events. This is part of the fabric of our community. We just need the community to work with us and to understand these people who are doing these types of things are known to these people in the communities and we're just asking them to call our tip line, 215-686-TIPS because it's unfair to our youth to not have one of the happiest times of your life go off this way. You should not be robbed of that because people want to do dumb things," Captain Walker elaborated.