Eagles 2023 schedule features Super Bowl LVII rematch, 5 prime time games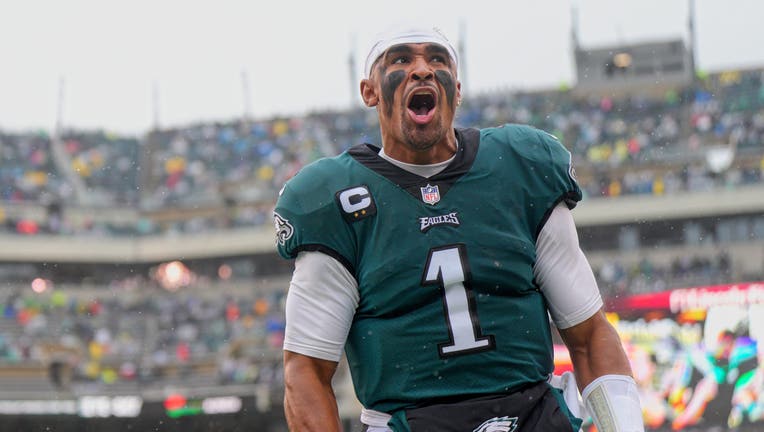 article
PHILADELPHIA - A Super Bowl rematch against Patrick Mahomes and the Kansas City Chiefs, a Christmas Day bout against the rival Giants and five prime-time games are just some highlights of the Philadelphia Eagles 2023 schedule. 
The team will open the season Sept. 10 on the road against the New England Patriots before returning to The Linc for a Thursday night contest against the Minnesota Vikings. 
The Eagles will play three games on the road in October, including match-ups against the Los Angeles Rams, New York Jets and Washington Commanders. The Birds will host both the Commanders and the Miami Dolphins in October. 
The hated Dallas Cowboys will come to town on Nov. 5 for a 4:25 p.m. match-up. Following a Week 10 bye week, the Eagles will have a tough stretch of games against the Kansas City Chiefs, Buffalo Bills, San Francisco 49ers, and Dallas Cowboys. 
The Super Bowl rematch will be the Eagles second Monday Night Football game of their season. The schedule has the Birds also playing twice on Sunday Night Football (vs. Miami, @ Dallas) and once on Thursday Night Football (vs. Minnesota). 
Two of the Eagles last four games of the season will be against the New York Giants, with bouts against the Seahawks and Cardinals.
Checkout the entire 2023-2024 schedule below: 
Week 1: @ New England - 4:25 p.m.
Week 2: vs. Minnesota - 8:15 p.m.
Week 3: @ Tampa Bay - 7:15 p.m.
Week 4: vs. Washington - 1 p.m.
Week 5: @ Los Angeles - 4:05 p.m.
Week 6: @ New York Jets - 4:15 p.m.
Week 7: vs. Miami - 8:20 p.m.
Week 8: @ Washington - 1 p.m.
Week 9: vs. Dallas - 4:25 p.m.
Week 10: BYE
Week 11: @ Kansas City - 8:15 p.m.
Week 12: vs. Buffalo - 4:25 p.m.
Week 13: vs. San Francisco - 4:25 p.m.
Week 14: @ Dallas - 8:20 p.m.
Week 15: @ Seattle - 4:25 p.m.
Week 16: vs. New York Giants - 4:30 p.m.
Week 17: vs. Arizona - 1 p.m.
Week 18: @ New York Giants - tbd