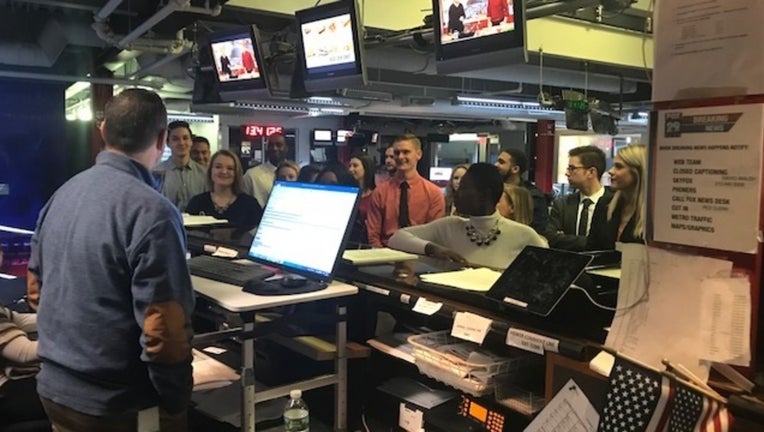 CURRENT INTERN OPPORTUNITIES, RESPONSIBILITIES & OBJECTIVES
NEWS
Good Day Philadelphia, evening and late newscasts, Good Day Philadelphia Weekend, web, meteorology

Story research

Pre-show interviewing

Maintenance of video tape library

Assist producer, director and anchors in telecast

Shifts:
Good Day Philadelphia: Monday through Friday 4 a.m. – 12 p.m.
Dayside: Monday through Friday/Weekends 9 a.m. – 6 p.m.
Nightside: Monday through Friday/Weekends 2 p.m. – 11 p.m.
Web: Monday through Friday 9 a.m. – 6 p.m.
Good Day Philadelphia Weekend: Saturday/Sunday 6 a.m. – 11 a.m.
Please specify which shift you prefer on your application
COMMUNITY AFFAIRS
Schedule and coordinate community outreach appearances with station on-air staff

Copywriting for FOX 29 community outreach initiatives on website and social media

Assist in the preparation and on-site coordination of cause-related marketing projects and initiatives

Assist in public service spot production, including writing and producing PSAs for station projects

Shifts: Monday through Friday 9 a.m. – 6 p.m. (Monday mornings a must!)
SPORTS
Logging sporting events for highlight selection for air

Coordinating scripts with producers and talent

Updating file system of professional, college and high school sporting events

Assist photographers on remote assignments

Shifts:

Monday through Friday 6:30 p.m. – 11 p.m.; Saturday and Sunday 1 p.m. –11 p.m. (varies based on season)
CREATIVE SERVICES/PROMOTIONS
Observation/orientation to promotion production

Non-linear and regular video editing of promos

Assist with promotional shoots

Shifts: Monday through Friday 9 a.m. – 6 p.m.
FINANCE AND HUMAN RESOURCES
Assist with inventory and budgets

Assist with internship recruitment

Shifts: Monday through Friday 9 a.m. – 6 p.m.
SALES
Learn the business development process from start to finish including how to prospect, cold call, and set appointments with potential new business clients

Conduct a proper client needs analysis in order to create relevant ad campaigns utilizing FOX 29 on air and online assets

Attend weekly sales meetings and individual sales calls with local account executives

Assist in planning sales/marketing events, creating presentations and writing commercial copy

Understand audience measurement for both television and digital properties and how they are monetized

Worth with multiple departments to develop and execute sales and marketing campaigns for station clients

Successful interns will learn fundamental sales techniques that may be applied in a variety of professions

Shifts: Monday through Friday 8:30 a.m. – 5:30 p.m. (scheduling flexible around classes)
MINIMUM QUALIFICATIONS
Students applying must be of junior, senior or graduate standing at an accredited college or university, majoring in related fields of study

No less than 16 hours per week at the station (some departments require evening and/or weekend assignments, as noted)

Must have reliable transportation to our station in Philadelphia, Pennsylvania.

Arrangements to obtain academic credit must be made with your advisor or internship coordinator prior to beginning your internship at WTXF. Your advisor or internship coordinator will be required to certify your eligibility for academic credit. Please refer to an internship application.
EXPECTATIONS
Professionalism in communication, personal presentation, punctuality and attendance

Demonstration of initiative, willingness to develop new and useful skills and enthusiasm in the performance of all tasks

Knowledge of WTXF-FOX 29 Philadelphia's programming, including Good Day Philadelphia, FOX 29 News, Fox News Channel and Good Day Philadelphia Weekend

Go on a ride-along with a full crew (reporter and photographer)

Go on a ride-along with a photographer

Spend a shift on the assignment desk answering phones, monitoring police scanners and other sources of news alongside assignment editors

Write mock scripts for broadcast television newscast under supervision of a producer

Sit in production control to observe the producer and director during a live newscast

Sit in the studio to observe the talent and engineers during a live newscast

Practice anchoring and stand-ups under supervision of a photographer or on-air personality

Solicit advice from talent, managers, producers and newsroom staff about career goals

Attend news planning meetings

Attend promotions meetings

Assist with guests (primarily for interns on Good Day Philadelphia)

Practice writing stories for website based off of television newscasts

Attend workshops and/or panel discussions hosted for interns

Sit in on a job interview for an intern for the next semester (coordinate with HR)
TO APPLY
Click here to print out the internship application
Email the completed application, resume and cover letter to fox29.hr@foxtv.com OR mail to:
FOX 29 Philadelphia
ATTN: FOX 29 Internship Program
330 Market Street
Philadelphia, PA 19106
INTERNSHIP PROGRAM DATES
The following are the dates of our internship program for 2022:
Spring: Canceled

Summer: Canceled

Fall: TBD