Kevin McCarthy claims Republicans will subpoena Hunter Biden amid impeachment inquiry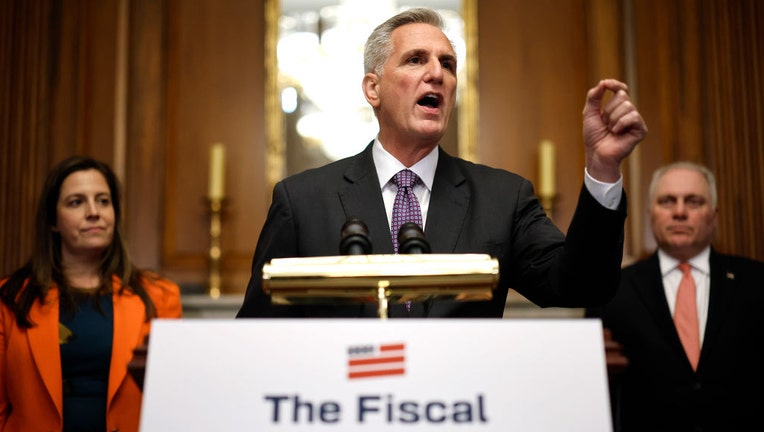 article
As talks of a House impeachment inquiry of President Joe Biden continue, Speaker Kevin McCarthy is claiming that Republicans will subpoena the president's son Hunter Biden, but suggested that it depends on timing. 
McCarthy wants investigators to have more evidence before a subpoena is issued to Hunter Biden, a week after he directed the House to open an impeachment inquiry into the president over his family's business dealings before the 2024 election, USA Today reported. 
RELATED: Biden impeachment inquiry launched by McCarthy
Republicans have tried to connect Hunter Biden's financial affairs directly to his father but have failed to produce evidence that the commander-in-chief directly participated in his son's work.
On Aug. 27, McCarthy suggested that an impeachment inquiry was becoming more likely, calling it "a natural step forward" but previously avoided committing to an impeachment vote, the Associated Press noted. 
The AP obtained court documents filed on Sept. 6 that stated federal prosecutors sought a grand jury indictment of Hunter Biden before the end of the month.
RELATED: Hunter Biden faces new indictment from prosecutors as plea deal unravels
The filing came in a gun possession case in which Hunter Biden was accused of having a gun while being a drug user, though prosecutors did not name which charges they will seek. He has also been under investigation by federal prosecutors for his business dealings, the Associated Press reported. 
Prosecutors under U.S. Attorney for Delaware David Weiss, newly named a special counsel in the case, said they expect an indictment before Sept. 29.
In recent months, Republicans have also shifted their focus to delving into the Justice Department's investigation of Hunter Biden after whistleblower testimony claimed he has received special treatment throughout the yearslong case.
RELATED: Hunter Biden pleads not guilty to tax crimes after agreement falls through
USA Today noted the president claimed last week that Republicans were trying to impeach him because they want to shut down the government.
Government funding runs out on Sept. 30, which is the end of the federal fiscal year, and Congress must pass new funding bills to avoid a federal shutdown.
Hunter Biden was charged in June with two misdemeanor crimes of failure to pay more than $100,000 in taxes from over $1.5 million in income in both 2017 and 2018. 
He was expected to plead guilty in July, after he made an agreement with prosecutors, who planned to recommend two years of probation. 
According to the Associated Press, the case fell apart during the hearing after U.S. District Judge Maryellen Noreika raised concerns about the specifics of the deal and her role in the proceedings.
The Associated Press contributed to this report.  This story was reported from Washington, D.C.