Philadelphia again posts formal notice to close protest encampment by Tuesday
PHILADELPHIA - The City of Philadelphia has again issued a formal notice that the protest encampment on the Benjamin Franklin Parkway must close completely by Tuesday, Aug. 18.
The tent encampment on a baseball field on the parkway, which began on June 10 and grew to an estimated 100 to 150 people.
The notice comes a little over a month after the city originally posted a notice that would have required the encampment to close back on July 17.
Those plans were later postponed to allow Mayor Jim Kenney to meet with the camp's representatives in search of a mutual resolution.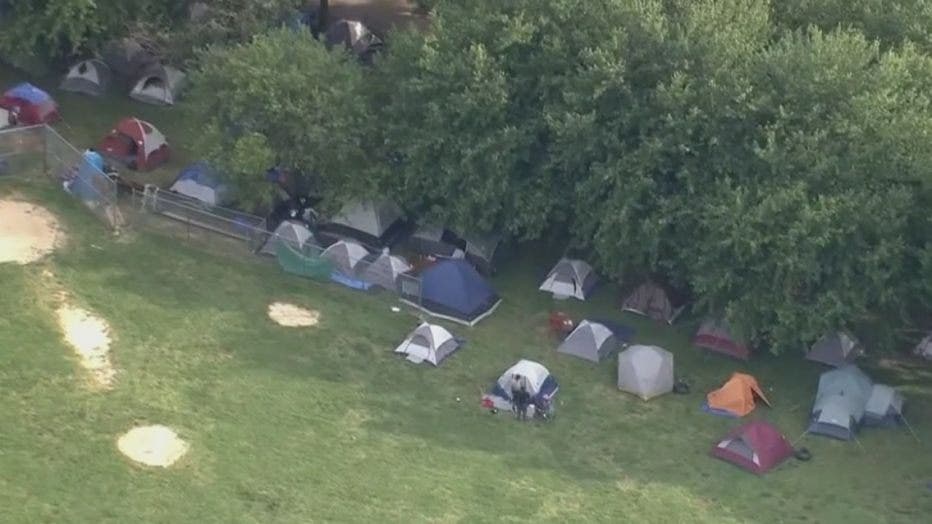 The city has previously referred to the notice as a "last resort," and cited public health and safety concerns as a reason for closing the encampment.
 "After several weeks of face-to-face discussions, and after more than two months of concerted efforts by our administration, I have come to the conclusion that further negotiations would be fruitless," said Mayor Kenney. "I take this step again with a heavy heart, as a last resort, and in recognition of the growing health and safety concerns at the sites."
Dozens of tents have lined the Benjamin Franklin Parkway near 22nd Street for several weeks in protest of a lack of long-term housing for Philadelphia's homeless population.
The city has repeatedly pointed to a number of issues in the negotiation process, including a "lack of clarity on who speaks for the group" and a "shifting list of demands." City officials also say the protesters had made demands for things outside of "its purview."
Philadelphia Housing Action — the coalition of groups that organized the encampment — said it was conceived as a form of political protest over city policies toward the homeless and the lack of low-income housing in the city.
"Under the supervision of Attorney Michael Huff, I filed an injunction in federal court today seeking to stop the city immediately from disbanding and destroying the encampments," Delaney Keefe said Monday night.
Keefe, a second year law student at Villanova, is speaking on behalf of the encampments. She says she attempted to serve notice on the city and will try again Tuesday morning.
___
For the latest local news, sports and weather, download the FOX 29 News app.
DOWNLOAD: FOX 29 NEWS APP