Philadelphia Archbishop Nelson Pérez installed during special mass
PHILADELPHIA - Archbishop Nelson Pérez is officially the new faith leader for Philadelphia Catholics. His installation mass was held Tuesday afternoon in the Cathedral of Saint Peter and Paul.
Pérez preached to his new parishioners in a personal way, saying "Hi mom" to the camera, giving a shout out to Philly sports teams, and even speaking in Spanish. People in the pews called the installation mass a new beginning, Pérez says he has come full circle.
"You know I was ordained a priest in this Cathedral so it holds a lot of memories for me," said Archbishop Pérez.
Pérez, who will be the first Hispanic archbishop to lead the region's 1.3 million-member flock, spent most of his early pastoral career in the Philadelphia area.
The 58-year-old attended the diocesan seminary in Philadelphia in the 1980s. He served in a number of Philadelphia parishes before being named as an auxiliary bishop in Rockville Centre, New York, and then bishop of Cleveland in 2017.
Outside the cathedral, believers were bused in.
"We feel like his family now," said second-grader Lena. Her family was in Cleveland for Archbishop Pérez's installment there, and now they followed him to Philadelphia.
RELATED: Bishop Nelson J. Pérez named Archbishop of Philadelphia
Monica Carvajal and Anna Garcia were the first people waiting by the doors for Tuesday's installation mass.
"Our first Hispanic Archbishop I'm happy to see that. And I just felt like I need to be here today," said Monica Carvajal.
"That's the first one in the history. Nobody do it like that," said Garcia. "And the way he speaks to the immigrant people through the church."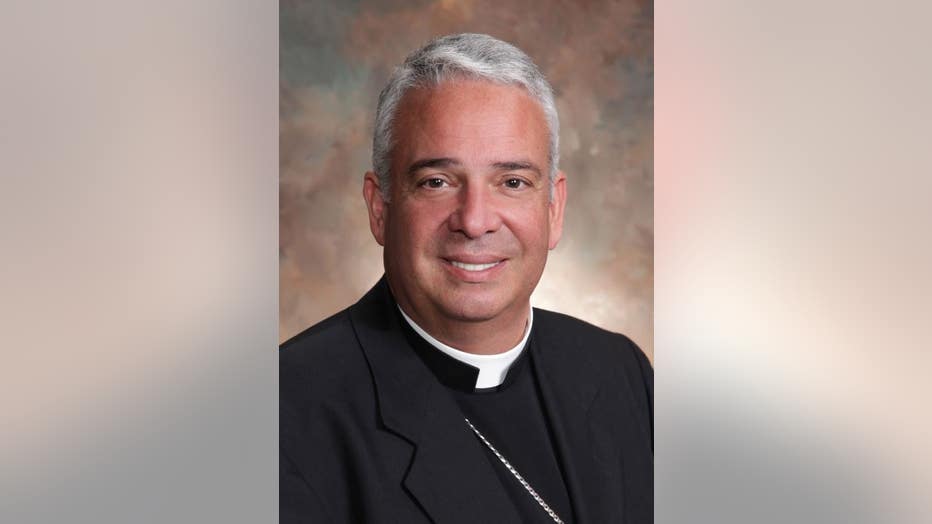 Philadelphia Archbishop-elect Nelson Pérez will be installed on Tuesday.
Though a celebration, the occasion was not absent of protestors, standing as a reminder of previous clergy abuse.
Looking to new leadership, the Archbishop's first homily focused on hope: "We have been through tough times but and after all we are still here. Because we hope."
Pérez succeeds Archbishop Charles Chaput, who is retiring.
FULL COVERAGE: Archbishop Nelson Pérez
Chaput welcomed Pérez to his new post, calling his successor "a man who already knows and loves the church in Philadelphia." Pérez shared his enthusiasm for the city, saying, "It's awesome to be back in Philadelphia with people who are faith-filled, who love the Lord, love the church."
Pérez also praised Chaput's tenure in the diocese, saying he faced challenges in Philadelphia with "great courage and steadfastness." 
Chaput led his final Sunday mass on Feb. 16, at the Cathedral Basilica of Saints Peter and Paul on the Benjamin Franklin Parkway.
Chaput had been the archbishop of Philadelphia since 2011 and had been in the priesthood since 1970.
___
For the latest local news, sports and weather, download the FOX 29 News app.
DOWNLOAD: FOX 29 NEWS APP