Police: Apartments and cars damaged after someone opens fire at Falls Township apartment
FALLS TOWNSHIP, Pa. - Police in Falls Township responded to shots fired at an apartment complex early Thursday morning.
"It's crazy because normally I'm up really really late so I could've been sitting in the living room and it could've hit me," said DeShawn Journigan. He got the scare of his life when around 3:00 a.m. morning the sound of rapid gunfire woke him from his sleep.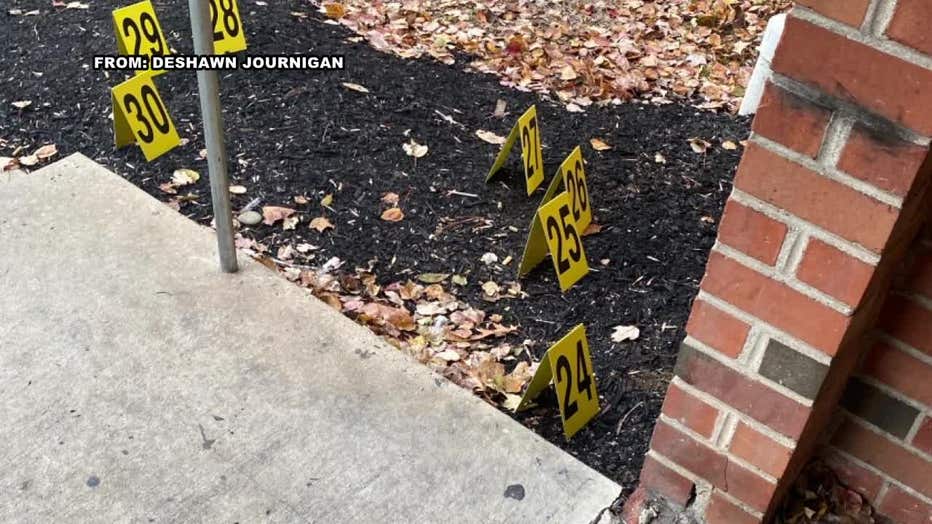 "It sounded like machine guns at first." He said the sound forced him to bury himself in his bed.
"I was laying in bed and I hear them go off and I thought it was fireworks because there's a fireworks place down the street. As it kept going off I said man this is really gunshots," he said. It wasn't until he heard police arrive that he noticed bullet holes in his windows.
"There's a bullet hole in my window. Actually, it's my daughter's room window, so luckily she wasn't here she was with her mother," said DeShawn.
Falls Township police say it all happened at the Castle Club Apartments on West Trenton Avenue in Morrisville.
They got calls from residents about shots fired. Police say when they got there they found 30 to 40 cartridge casings around the 300 building on the property. On Thursday, white evidence markers were placed over the bullet holes on the building. FOX 29's Shawnette Wilson walked through and found several cars had also been shot up.
DeShawn says he's lived here a year and nothing like this has happened.
"It's scary. It's very scary," he said. Falls Township police haven't said what if any leads they have. They want to hear from you if you saw or heard anything.
No one was injured. 
Anyone with information that can help Falls Township detectives advance this case should contact Detective John Vella at (215) 949-9100 ext.# 431 or email j.vella@fallsltwp.com Media Relations Contact:  Lt Nelson Whitney 215-949-9116. Source:  Falls Township Police Department