Row home explosion in Allentown sparks fire that spreads to 9 other homes
ALLENTOWN, Pa. - Authorities say an early morning house explosion in the eastern Pennsylvania city of Allentown blew off the front of the row home and led to a fire that spread to nine other homes, but no serious injuries were immediately reported.
Allentown fire officials said the 3 a.m. Sunday blast and fire displaced 44 residents. Police said one person initially unaccounted for was later found safe. One person was taken to a hospital for an injury described as minor and a firefighter was treated for a shoulder injury.
 
Capt. John Christopher said at 9 a.m. Sunday that crews were putting out hot spots but there was no longer an active fire. The cause of the blaze is under investigation. Christopher said arriving crews didn't detect any odor of natural gas.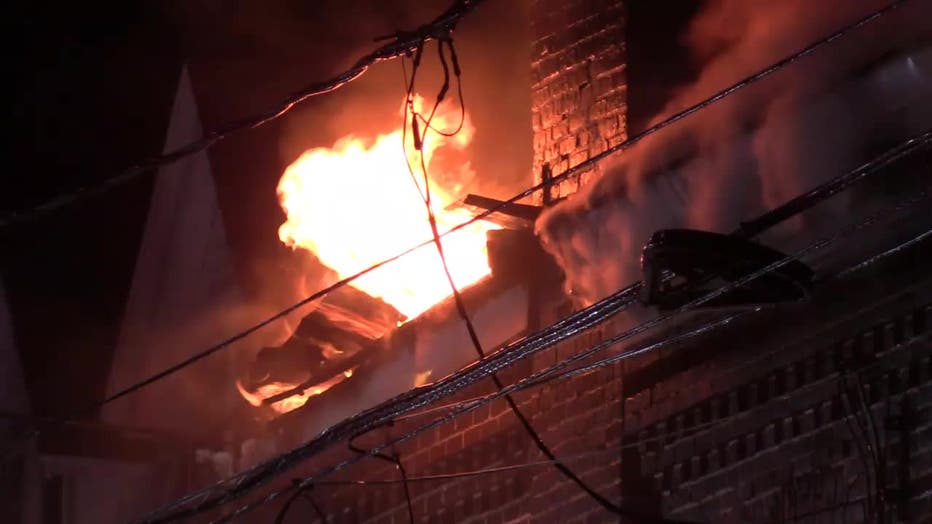 "It felt like an earthquake we thought something hit the building, the middle of the house was in the middle of the street, three doors down from us," Brittany Haney, a victim of the fire, said. 
 
Brittany's mother says her daughter's screams forced her out of a deep sleep to her worst nightmare. The family was forced to flee from the fire with just the clothes on their backs. 

"When I went outside I see my house on fire and the neighbors and I wanted to run back in the house but they wouldn't let me, but they saved all of the dogs all of my grandchildren are safe," Cindy Hewko said. 
 
Neighbors explained that the sound of explosion woke them shortly before the fire. That explosion occurred inside a house that they say has been vacat since the previous owners moved about a month ago. 
"Once it takes off it went up into the roof and it just ran across the roof," Deputy Fire Chief Efrain Agosto explained.
Miraculously, the Allentown Fire Department says the only injury was to a firefighter's shoulder. He has since been released from the hospital. 

 "It's incredible that everybody made it out alive and somewhere safe," Brittany Lewis, a bystander added. 
 
In the aftermath, the families forced out by the fire are bein assisted by the Red Cross.