Miami holds on to beat Villanova for 1st trip to Elite 8
GREENVILLE, S.C. - Jasmyne Roberts scored a career-high 26 points — including a stickback for the go-ahead, three-point play with 38.8 seconds left — to help Miami overcome blowing a 21-point lead and beat Villanova 70-65 on Friday for the program's first trip to the NCAA Tournament's Elite Eight.
The ninth-seeded Hurricanes (22-12) hung on down the stretch after Villanova made its push back in the game behind the latest big-scoring effort from All-American Maddy Siegrist.
When it was over, longtime coach Katie Meier turned and started jumping to hug her staff, while players and cheerleaders sprinted to midcourt to celebrate. Meier soon made her way to the sideline near a vocal set of Hurricanes fans and gave two thumbs-up amid the cheering, while Roberts stayed locked in a firm and emotional embrace with teammate Ja'Leah Williams.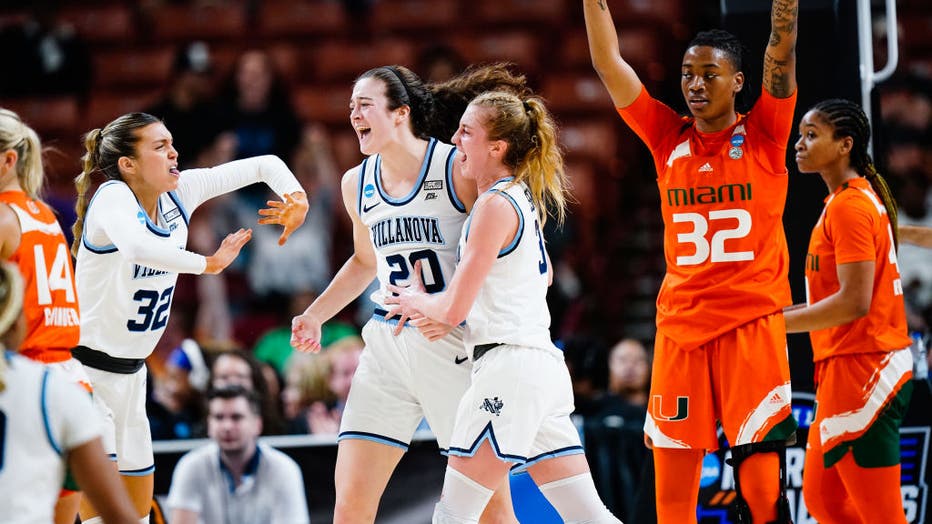 Maddy Siegrist celebrating after a made basket during the Sweet Sixteen round of the 2023 NCAA Womens Basketball Tournament held at Bon Secours Wellness Arena on March 24, 2023 in Greenville, South Carolina. (Photo by Grant Halverson/NCAA Photos via ((Photo by Grant Halverson/NCAA Photos via Getty Images))
Miami had reached the Sweet 16 only once before, in 1992. Now the Hurricanes will play Sunday for the Greenville Region 2 title against the LSU-Utah winner for a trip to the Final Four.
Siegrist, the nation's scoring leader, had 31 points and 13 rebounds for fourth-seeded Villanova (30-7).