Dolly Parton's heartwarming gesture: Country icon visits fan in hospice care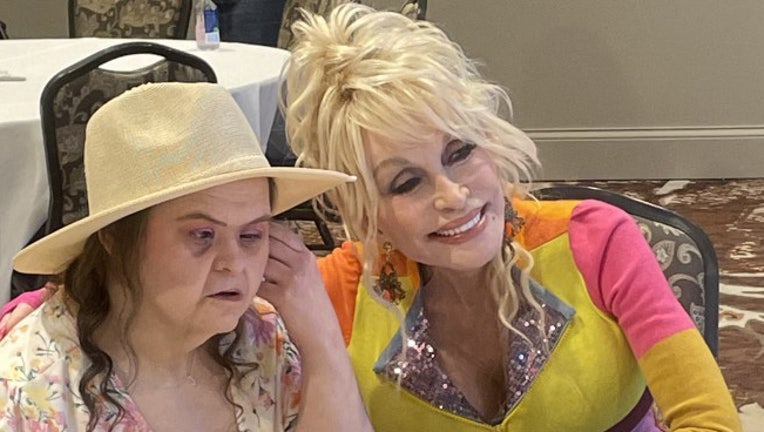 article
SPRINGFIELD, Mo. - Dolly Parton continues to show why the world loves her after she visited a hospice patient who's not shy about showing her love for the country music legend.
Jackie Carroll is in the early stages of Alzheimer's and Parkinson's diseases and is currently being treated by the CoxHealth medical team in Missouri. 
In mid-April, the medical team shared Carroll's love of Parton on Facebook. Photos showed Carroll's room filled with Parton pictures and memorabilia. Carroll was also seen holding a mic appearing to do her best Parton impression. 
Carroll is said to know all the words to Parton's songs "9 to 5," and "Coat of Many Colors."
RELATED: Dolly Parton wrote a 'really good' secret song, then buried it in a time capsule
"Dolly's music brings Jackie joy and comfort every day," the medical team posted. "We would love to make her dream come true by arranging a personal or virtual meeting with Dolly." 
It's no secret Jackie Carroll is a fan of Dolly Parton.  (CoxHealth at Home )
The medical team asked if anyone had connections to Parton to help arrange a meet-and-greet, and apparently, someone did. 
Earlier this month, Parton visited Carroll.  Pictures posted on Facebook showed the two women smiling, posing and talking with each other. 
RELATED: Dolly Parton's home on wheels turned into $10,000 hotel suite
Parton even showered Carroll with a few gifts, including an invitation to Parton's theme park "Dollywood."
"Jackie has loved Dolly since she was a little girl," Carroll's family said in a statement. "Her bedroom is Dolly themed, she has pretend phone conversations with Dolly, and she proudly sings Dolly's songs. This was an experience of a lifetime for Jackie! Thank you to all who made this possible."
This story was reported from Los Angeles.