Eagles promote Brian Johnson to OC, hire Sean Desai as DC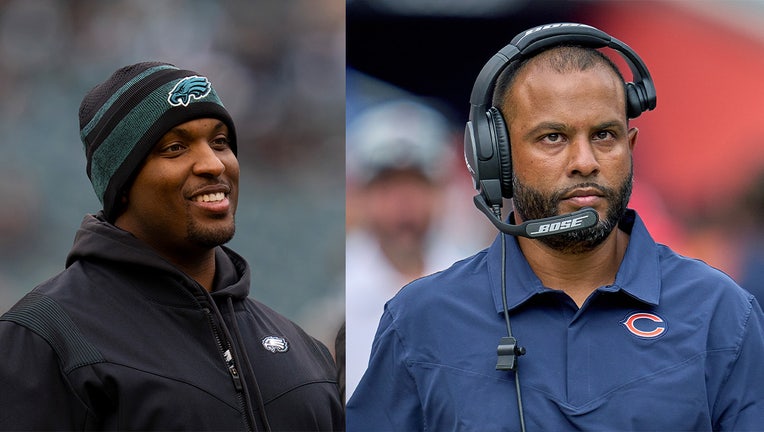 article
PHILADELPHIA - The Philadelphia Eagles have found their new offensive and defensive coordinators. 
Tuesday afternoon, the Eagles announced that quarterbacks coach Brian Johnson had been promoted to offensive coordinator. He replaces Shane Steichen, who left to become the head coach of the Indianapolis Colts.
Johnson has been the QBs coach working with MVP finalist Jalen Hurts for the past two seasons. Alex Tanney will take over as the new QBs coach, according to the Eagles website. 
Nick Sirianni confirmed at the NFL Combine Tuesday afternoon that Sean Desai would be leaving his post with the Seattle Seahawks to become the Eagles defensive coordinator. 
Desai replaces Jonathan Gannon, who is now head coach of the Arizona Cardinals.
Both Johnson and Desai were highly sought after this offseason, according to reports. ESPN's Adam Schefter reports that Johnson decided to stay with the Eagles as their offensive coordinator despite multiple opportunities to take  that same job with other teams. Desai had also interviewed with other teams looking for a defensive coordinator this offseason. 
Before joining the Eagles, Johnson spent 2018-2020 at the University of Florida coaching the quarterbacks and serving as the offensive coordinator in his final season in Gainesville.
Before that, Johnson served in similar roles at the University of Houston, Mississippi State University, and the University of Utah.
In his time at Mississippi State, Johnson worked with Cowboys quarterback Dak Prescott.
Prior to his coaching career, Johnson was a three-year starter at the University of Utah. He was also featured on the cover of EA sports NCAA Football 2010 video game.
Desai's hiring is something of a homecoming as he began his coaching career as a defensive and special teams assistant at Temple University in 2006. He broke into the NFL with the Chicago Bears in 2013 as a quality control coordinator. He was then served as the safeties coach for the 2019 and 2020 seasons, before he was named defensive coordinator with the bears in 2020. 
Desai earned his doctorate in educational administration from Temple University's College of Education and Human Development in 2008.