Elementary school student injured by stray bullet from shooting near campus in Oxnard
OXNARD, Calif. - A student in Oxnard was injured in a shooting near an elementary school on Thursday morning, police said.
Oxnard Police officers responded to McAuliffe Elementary School, located at 3300 Via Marina Avenue, around 11:30 a.m. to investigate reports of a possible shooting victim.

Police said it appeared to be a car-to-car shooting that happened off-campus near the school.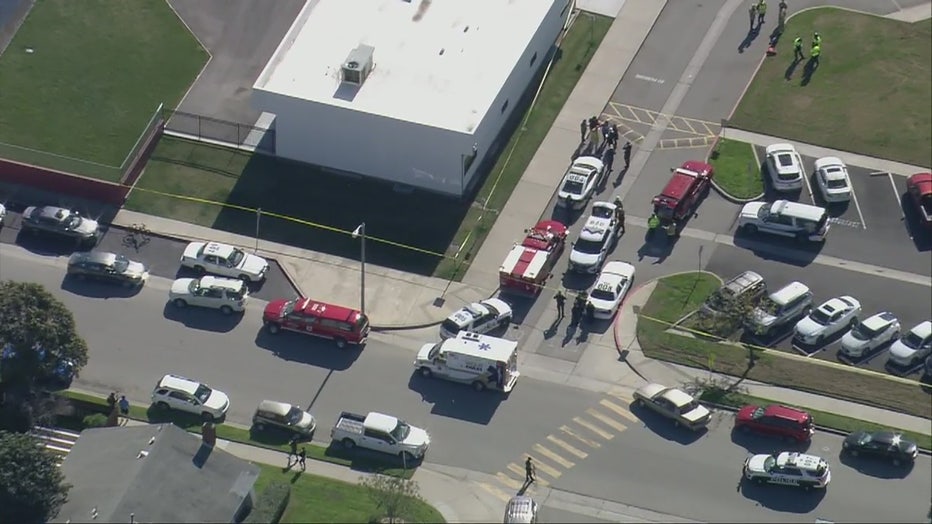 A 10-year-old student was struck by a stray bullet and transported to an area hospital with a non-life threatening injury. It was unclear if the student was on or off-campus when he or she was struck.
Police said that the child's parents have been notified by the Oxnard School District, and all other students have been accounted for and are safe. 
A student reunification site opened near the intersection of Kelp Street and Via Marina Avenue, according to the Oxnard Fire Department. Parents were asked to enter at Kelp Street and Wooley Road.
The shooting prompted a large police presence and the school was immediately placed on lockdown.
No suspect or vehicle description was immediately available. 
The public was asked to avoid the area near the school grounds as police continued to search for the parties involved in the shooting.
Statement from Oxnard School District:
Dear OSD Family,
'As you know, there was a shooting incident that occurred this morning off campus near McAuliffe School. As a result, one student was injured and suffered non-life threatening injuries. The school was immediately placed on lockdown and the Oxnard Police Department responded immediately. Today's events unfolded rather quickly and our first priority was ensuring the safety and security of all students and staff. We will have additional school counselors and psychologists available at school tomorrow for students and staff as well as an increase in police presence. I would like to thank the principal, teachers, and McAuliffe team for taking care of the students in a caring and loving manner. We also thank the Oxnard Police Department for their immediate response to this incident. Lastly, I would like to thank McAuliffe parents and families for their understanding and patience today during this stressful incident. We will continue to ensure the safety and securing of our students and staff.'
Thank you. Dr. Karling Aguilera-FortSuperintendent
Authorities are asking anyone with information on the shooting to contact the Oxnard Police Department.
FOX 11 Digital Producer Shelly Insheiwat contributed.