Hurts So Good: Philadelphia Eagles, Jalen Hurts agree to $255 million contract extension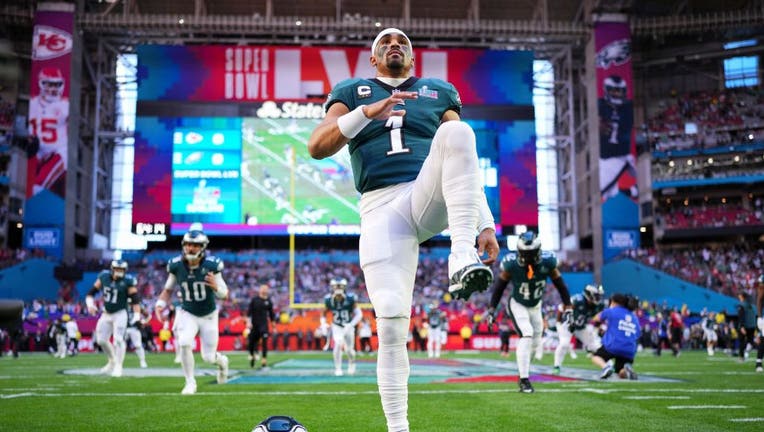 article
PHILADELPHIA - Jalen Hurts is set to sign one of the richest deals in NFL history, agreeing to a five-year, $255 million extension with the Philadelphia Eagles, including $179.3 million guaranteed.
The Eagles announced on Monday "QB1 is here to stay," but terms were not yet announced, according to the person who spoke to the AP on condition of anonymity because the deal was not yet final. Hurts was rewarded for his breakout season when he was named an AP NFL MVP finalist and led the Eagles to the Super Bowl, where they lost to the Kansas City Chiefs.
"Keeping the main thing in Philly," the Eagles tweeted. "We've agreed to terms with Jalen Hurts on a 5-year extension through the 2028 season."
The 24-year-old Hurts was expected to receive $51 million per season, and only only Deshaun Watson ($230M) and Kyler Murray ($189.5M) received more in a single contract.
RELATED COVERAGE
Hurts delivered a record performance in the Super Bowl, throwing for 304 yards and a touchdown, running for 70 yards and three scores and adding a game-tying 2-point conversion.
Philadelphia went 14-1 in his starts and he had 3,701 yards passing, 760 yards rushing and 35 touchdowns combined in the regular season. He led the Eagles to the top seed in the NFC and a playoff victory over the New York Giants and over the San Francisco 49ers in the NFL championship game.