I-676 to remain closed until Thursday after barge wedges underneath bridge
PHILADELPHIA - The Vine Street Expressway (I-676) remains closed in both directions from the Schuylkill Expressway to Broad Street after a construction barge and two hopper barges broke free of their moorings on the Schuylkill River and wedged under a bridge.
"To see something like this stuck in the middle of the Schuylkill is pretty epic," stated Meredith Edlow.
Edlow, among several other bikers and runners on the Schuylkill River Trail, could not stop looking.
Construction barge Lehigh and two smaller barges were positioned between the Spring Garden Bridge and the Vine Street Expressway. As pounding rain from Tropical Storm Isaias caused the water level to rise, the barges broke free and became lodged against the Vine Street Expressway/676 Bridge.
The barges were being used as part of a project to dredge portions of the Schuylkill River above the Fairmount Dam.
Many are asking how exactly did it happen?
"There's no definitive answer on that. There's various factors as far as what caused that barge to come loose from the anchors it had to the riverbed," stated Commander David Park, with the Army Corps of Engineers.
The incident initially caused SEPTA to suspend all Regional Rail service.
That service has since been restored, but I-676 remains closed in both directions from the Schuylkill Expressway to Broad Street.
"I think it's certainly consistent with 2020. I think we're all ready for this year to wrap up and hope for a better 2021," remarked a cyclist.
As far as the bridge, it appears any major structural damage may have been avoided.
"There were some minor structural issues that were discovered with the bridge, but nothing that compromises the structural integrity of the bridge itself. With the location of the barge, it is stabilized, it is off the bridge currently, based on the water receding. So we are going to do further inspection," explained Kenneth McCalin, District Executive with PennDOT.
Kelly Drive remains closed due to flooding from Isaias. Martin Luther King Jr Drive remains closed from East Falls Bridge to Eakins Oval for the safety of trail users during heightened COVID-19 concerns.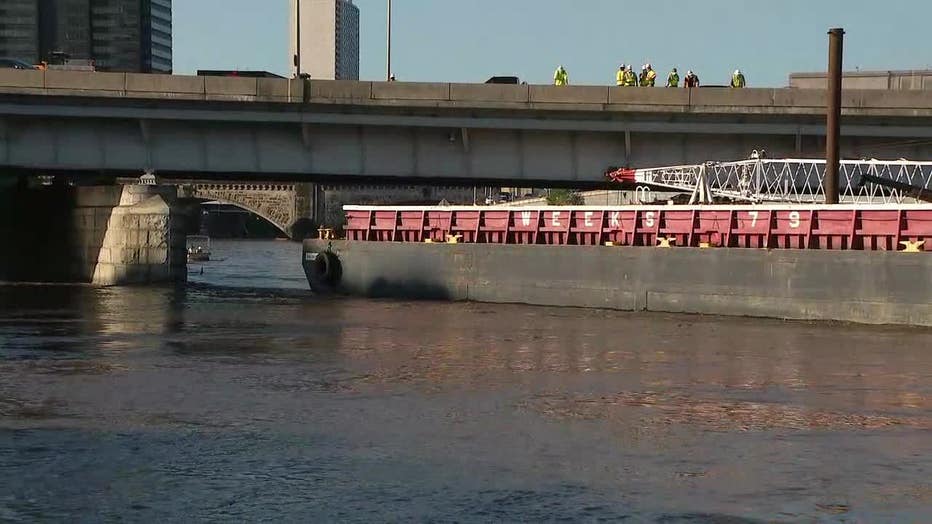 The Army Corps of Engineers say they hope to place the barge back in its original place with the three tug boats soon.
"That time frame as far as when they're able to come up the river, based on the river velocity, we're expecting that to be sometime early Thursday afternoon," added Commander Park.
___
For the latest local news, sports and weather, download the FOX 29 News app.
DOWNLOAD: FOX 29 NEWS APP