Arlington Heights woman caught on surveillance video torching Shrine of Our Lady of Guadalupe
DES PLAINES, Ill. - An Arlington Heights woman was charged with arson in connection to a fire that damaged the Shrine of Our Lady Guadalupe in Des Plaines on Tuesday.
Virginia Roque-Fermin, 41, was arrested as police responded to the fire at 1170 N. River Road around 2:30 p.m., police said. Roque-Fermin was seen walking away from the shine covered in soot, police said.
Des Plaines police responded to the area of and attempted to put out the fire, but were unsuccessful. The fire department arrived and were able to put out the fire, authorities said.
Surveillance video shows Roque-Fermin carrying objects such as statues, buckets, chairs, and planter pots toward the grotto of the shrine before starting a fire and then continuing to throw things onto the fire to feed the flames, police said. Officers found soot on the front of her clothes.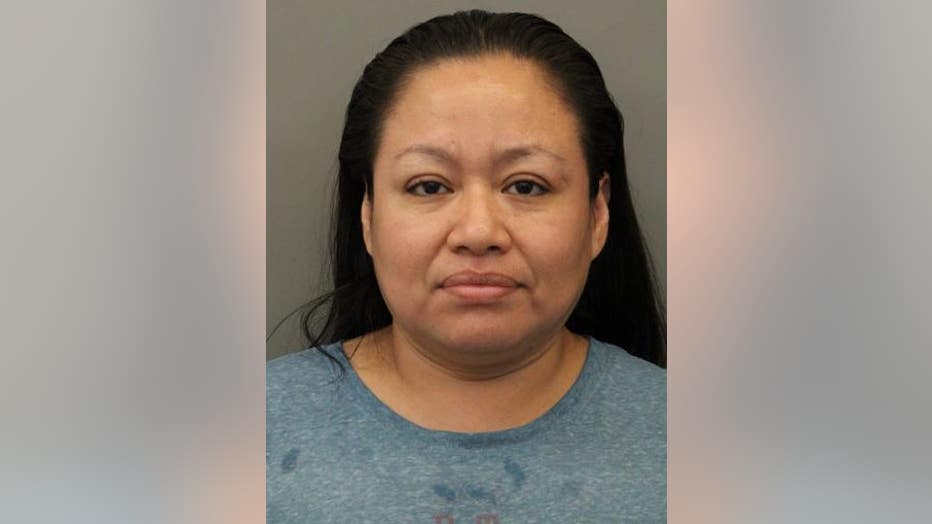 Virginia Roque-Fermin (Des Plaines Police)
Total damage to the shrine was estimated to be over $78,000, police said.
"The damage was significant," said Andy Lepe, a representative of the shrine. He estimated that the fire burned for more than 10 minutes before it could be extinguished.
The fire occurred in a chapel surrounding a statue of Jesus on the west plaza of the shrine. That statue, as well as those of St. Jude and St. Michael the Archangel, were destroyed by the fire.
"Although we are very saddened by the painful vandalism the shrine has undergone, we are thankful for the Des Plaines Police and Fire Departments for their rapid response to the incident," the shrine said in a statement. "We ask for special prayers of healing and reconciliation for the individual who has perpetrated this violent act."
Jose Davila, of Bolingbrook, visited the shrine Tuesday evening. He said the damage was sad to see but he was grateful to hear of the arrest because the shrine is an important landmark to his community.
"It's one of the most sacred places for us," he said. "It's very, very sad for us because everybody comes here to pray."
SUBSCRIBE TO FOX 32 CHICAGO ON YOUTUBE
Maryann Johnston, who lives in Arlington Heights, said she goes on walks near the shrine and often sees people gathering. People of all ages come to pray and "give the Lord what you need and ask for help," she said.
"This is gone, but I know all the prayers are up there, and that's what it's about," she added.
Roque-Fermin was scheduled to appear in bond court Wednesday.
The Sun-Times Media Wire contributed to this report.