The Blockson Collection: Massive collection of Black history calls Philadelphia home
PHILADELPHIA - A massive collection of Black history can be found right here in Philadelphia – and it was started by a man who was told as a child  that African Americans have no history. 
That man spent a lifetime proving that statement was not true and created 'The Blockson Collection.'
It's located right in the middle of Temple University's campus. Literally thousands of people walk right by it in a given week, and yet, it is still home to some of the most unique and interesting symbols of Black history in the country. 
"The Charles L. Blockson Afro-American Collection is one of our nation's major facilities for the research of African-American History and culture," explained curator Dr. Diane. D. Turner. "Our materials in the collection are known around the world." 
The items themselves are impressive but equally impressive is the story that inspired Dr. Blockson to begin the personal collection in the first place at the age of nine.
"His teacher was not a malicious person, but her thinking was with the times. So, she told him, 'Charles, Negroes have no history, and it's their place to serve whites,'" Dr. Turner explained.  
That message left a lasting impression on Blockson.
"He was very hurt by what the teacher said, but it motivated him to start collection," said Dr. Turner. "So, whenever he got allowance or any monetary gifts, he would go to bookstores, Salvation Army, Goodwill, any type of yard sales looking for a journey to talk about the black experience."
The personal collection first came to Temple University in the 1980's and has continued to expand every year.
"In 1984, he brought with him 20,000 items. Today we have over 700,000 items and growing," Dr. Turner added.
Dr. Turner took the time to share some of the incredible pieces of history that are part of the collection with FOX 29's Bill Anderson.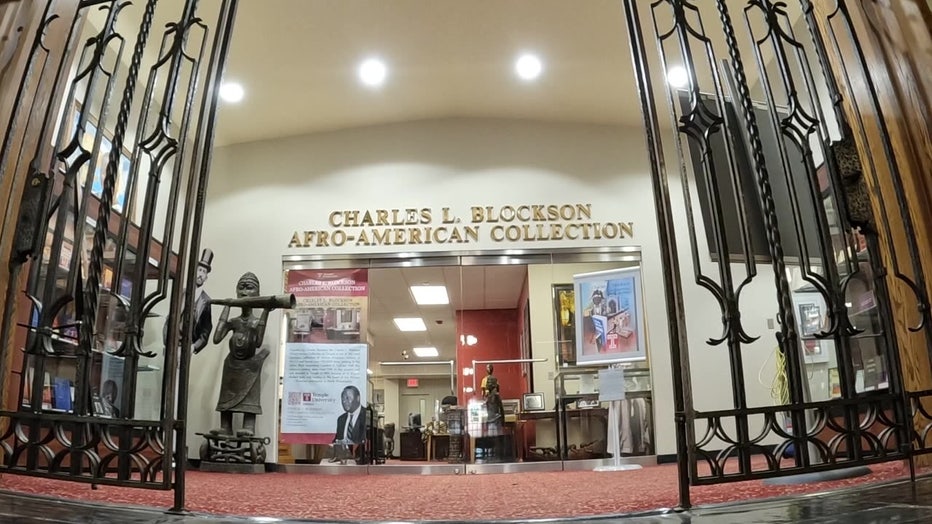 The Blockson Collection is housed right on Temple University's campus.
Each item came with a personal story.
The Blockson collection is unique in so many ways, not the least of which is the commitment that began with Dr. Blockson and continues today.
"One of the things he wanted, was everyone to have access to it. I'm always telling people, you're welcome to come here and it's free. You can sit in here all day and do research, and it doesn't cost you a dime," Dr. Turner said.
The Blockson Collection hours vary, and as a research facility it's probably best to call if you want to drop in.