Workers safe after 2 vacant row homes collapse in South Philadelphia
SOUTH PHILADELPHIA - Emergency crews responded to the scene of a building collapse in South Philadelphia Tuesday afternoon. 
Crews were called to the scene on the 700 block of Mercy Street around noon. Officials say two vacant rowhomes collapsed while one of the two was being worked on.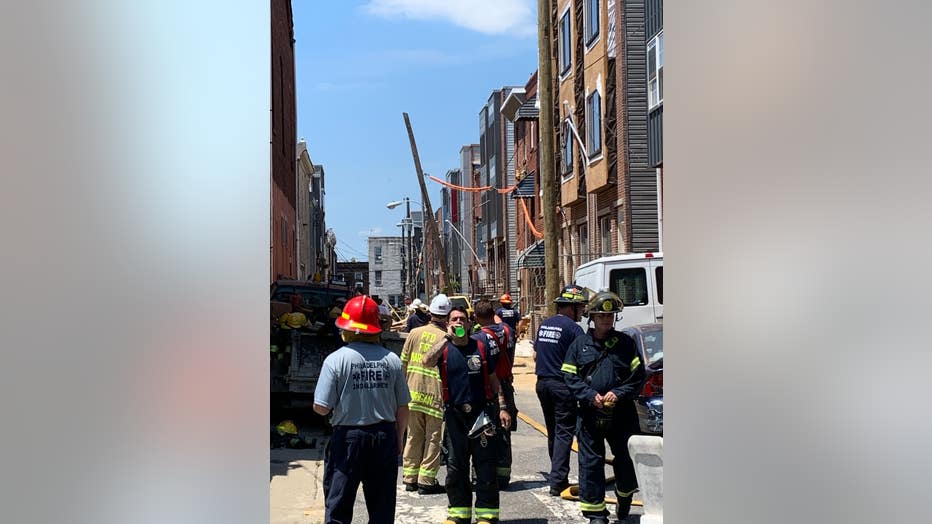 "We were on the third floor and all of the sudden, it sounded like an earthquake and it felt like an earthquake. The house was shaking," described David Mostoller.
Mostoller didn't expect the view of his South Philly block on Tuesday to change so drastically.
His Nest camera captured the street view after a rowhome directly next door, 719 Mercy Street, collapsed and took down a vacant rowhome at 717 with it. Fortunately, Mostoller's home was not damaged.
"It was scary, but, thankfully, no one is hurt," Mostoller added.
Neighbors say 719 was recently gutted to what appeared to be just a brick façade and roof.
717, they say, was vacant for years and not structurally sound.
A spokesperson for the city's Department of Licences and Inspections says there was construction happening in 719 at the time of the collapse and there is a permit for construction. But, they are investigating if contractors did work outside the scope of the permit.
Neighbors say they saw workers in the basement. If they were underpinning, according to L&I, that requires a specific permit.
"I saw them throwing the rocks out this morning," said a neighbor.
Fortunately, police say all of the workers got out uninjured.
"There was a car that was right here, their truck, and it backed up, reversed all the way up, so they must have just left," the neighbor went on.
"It could've been anybody, but thank God there was no one living in there," Jeffrey Presley remarked.
A relief for neighbors, but now, they want to know what went wrong.
"It did look a little iffy and I didn't expect that 24 hours later the whole thing would collapse," Mostoller added.
___
For the latest local news, sports and weather, download the FOX 29 News app.
DOWNLOAD: FOX 29 NEWS APP