New Jersey sisters discover letters to their father from his best friend killed during World War II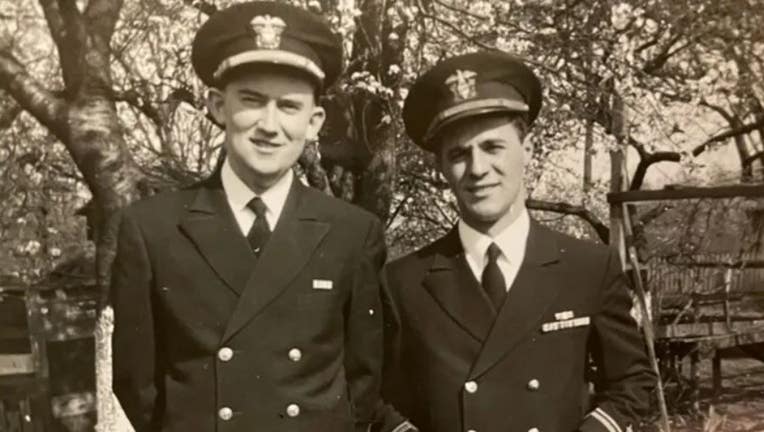 article
Most people never have the opportunity to gain insight into what their parents were like during their younger days, but two sisters in New Jersey did after discovering letters written to their Navy veteran father from his best friend during World War II.
Susan Sturm and Cindy Sommer were tasked with the responsibility of cleaning out their parents' home following the death of their 96-year-old mother in January 2021. The women had lost their father, Al Sitarski, years prior in July 2012 at the age of 91.
While in the attic, the sisters came across a brown envelope with the words "A Very Sad Story About WWII" written on the front in Sitarski's handwriting. Not knowing many details about their father's four years in the Navy, they opened the envelope and discovered it was stuffed with letters from his longtime best friend, Navy Lt. Fred Fonda.
WITH WORLD WAR II AIRMAN'S REMAINS FOUND, RELATIVE FINALLY 'HAS CLOSURE' FOR WHOLE FAMILY
"The letters in this envelope were a collection in chronological order of all of the letter's that Fred wrote to my dad," Sturm said, adding that the finding was "very touching and amazing."
Prior to finding and reading the letters, Sturm and Sommer knew of Fonda, but were not aware of the extent of his friendship with their father – a friendship that would come to a tragic end with Fonda's death in November 1945. Strum said she believed it affected her father for the rest of his life.
The sisters ultimately decided they were going to read every letter in the envelope, starting with Sturm. When she was finished she gave them to her sister, who ironically read them on Memorial Day 2021.
"These two men had such a bond," Sturm said before taking the story back to where she knows it started – Sitarski and Fonda's high school years.
WWII LOVE LETTERS HIDDEN BEHIND WALL IN NEW YORK HOME DELIVERED TO FAMILY 80 YEARS LATER
Both men attended Linden High School in Linden, New Jersey, and were "dearest, closest" friends, according to Sturm, but she thinks the friendship could have gone back further. Sitarski had been in Linden his entire life. Fonda, on the other hand, migrated to the area from Italy and became a nationalized citizen in 1931 at 10 years old.
After high school, they both attended the Newark College of Engineering before enlisting in the Navy in 1942. Both men also completed naval training at Cornell University before they were separated.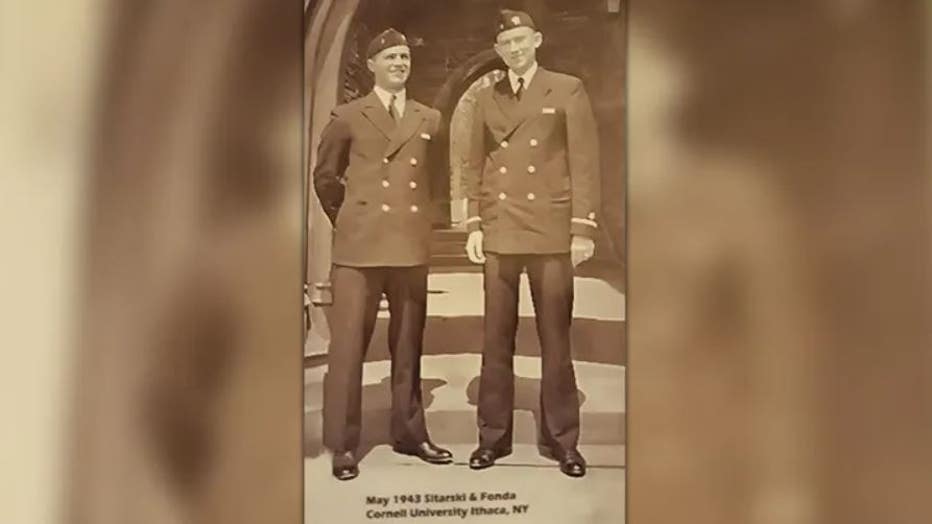 Fred Fonda, left, and Al Sitarski, right, pictured outside Cornell University in May 1943. (Susan Sitarksi Sturm)
Sturm said her father remained on the East Coast while Fonda was mostly on the West Coast. Both men also spent time on various ships.
"My dad's ship was YMS104 based out of Solomons, Maryland. He actually made a replica of the ship," Sommer said in an email. "I found the plans to the ship too. I think he must have learned every inch of it."
Upon being separated, the men wrote each other often. 
Though the sisters only have access to the letters Fonda wrote Sitarski, Sturm said it was clear both men had a great sense of humor while sharing their life updates.
The conversations centered around women, hobbies, career updates and the future. Sturm said there was hardly any talk of the war, at least from Fonda's end.
"I think in their heart of hearts they pictured the war will eventually be over, we'll both be married, settle down and have children, our wives will be friends, and we'll have BBQs," Sturm said. "But it never happened."
TIKTOK STAR AND WWII VETERAN 'PAPA JAKE' TURNS 100, WANTS FUTURE GENERATIONS TO KNOW HIS STORIES
On Nov. 9, 1945, just days after being promoted to lieutenant, Fonda was killed while decommissioning the USS Greene. The ship was one of many damaged beyond economical repair a month prior during Typhoon Louise in Okinawa, Japan.
Fonda was the lead damage control officer in charge of a group removing ammo from the ship's aft handling room when an unknown gas surfaced and overtook the four men working in the magazine. Fonda attempted to rescue his fellow sailors, but ultimately died with them.
Fonda died at 4:12 p.m. from accidental asphyxiation due to oxygen deficiency, according to Medal Mulisha, a website that shares the stories behind unclaimed medals. He was initially buried at the Island Command Cemetery in Okinawa, Japan, before being repatriated to Arlington National Cemetery in Virginia.
Because of his actions, he was posthumously awarded the Navy and Marine Corps Medal.
"[He] died a hero," Sturm said. "Dad never really spoke of it very much, but based upon their correspondence and their friendship, you could tell dad and Fred were dear friends."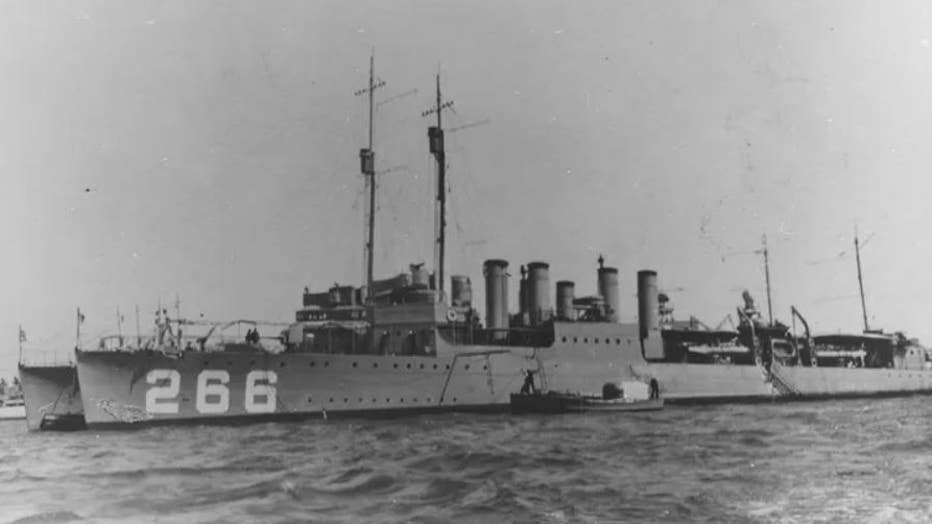 USS Greene (DD-266) pictured by the U.S. Navy at some point between 1919 and 1922. (U.S. Naval History and Heritage Command)
Though the letters came to an end, the women are hoping to find the missing pieces of the story.
"At this point, we had all the letters Fred wrote to my dad, but we obviously did not have the letters my dad wrote to Fred," Sturm said.
After Sommer read the letters on Memorial Day, she came across a post by Medal Mulisha about Fonda. Not knowing anything about the site, she was convinced it was a sign from her father and Fonda that they are reunited in Heaven.
Since then, the women have been working to see if their father's letters are somewhere out there by researching Fonda's family and trying to connect with the relatives they find. They were able to contact a cousin of his in Italy, but that person was not able to help and said communication with the Italian relatives dwindled after Fonda died.
They discovered Fonda had a sister named Anna and, as of February, are still searching for her. Strum said she would be 103 years old, and could possibly be deceased, but neither one of them have found an obituary for her.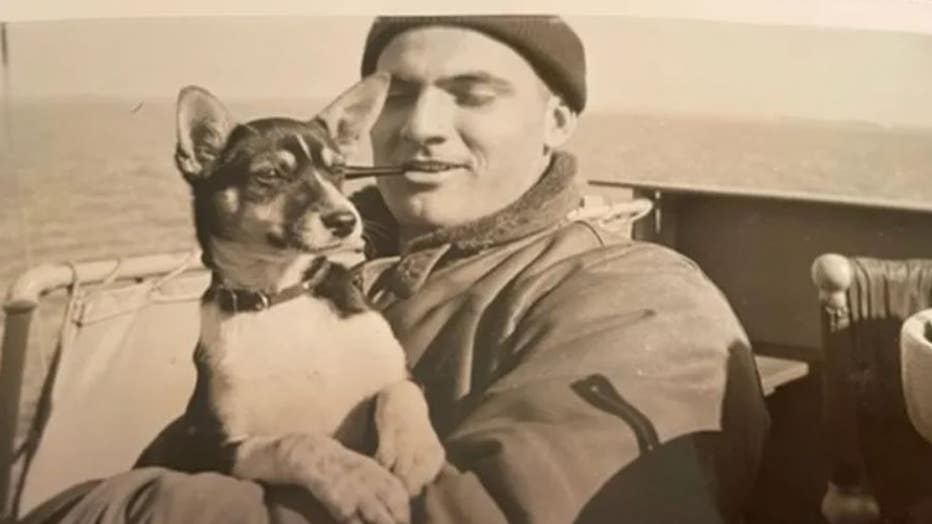 Navy Lt. Fred Fonda pictured holding a dog while at sea sometime in the 1940s. (Susan Sitarski Strum)
Sturm did some digging and found who she thought owned the former Fonda home in Linden, but he was a renter. 
"I was hoping and praying in some way, shape, matter or form that maybe the letters that dad wrote Fred were sitting in the attic of the house," Sturm said. "You never know."
The renter put her in contact with the property owner, who knew of Fonda's story, but he told Sturm he was not the one who purchased the home directly after the Fonda family lived there.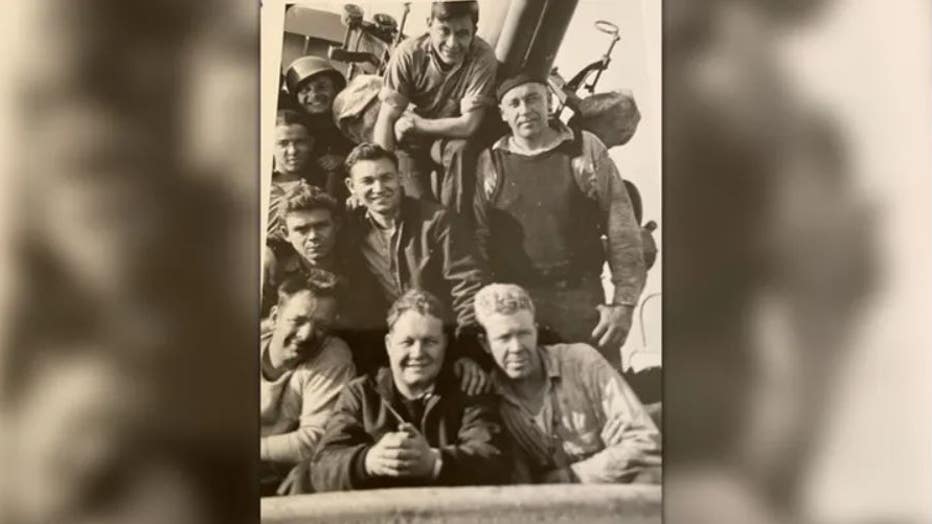 Navy Lt. Fred Fonda and shipmates on board the USS Greene. (Susan Sitarski Sturm)
Though the women are unsure of the letters' whereabouts, they did receive some insight into what their father might have written to Fonda during a project with Voyage Media's True War Stories: Mission Report.
In a Feb. 6 podcast episode titled "A Wartime Hero's Letters," the show used Sturm's and Sommer's research and Fonda's letters to reconstruct what Sitarski might have said back to Fonda. Because of the 42-minute episode, the sisters were able to imagine what their father's letters looked like.
"Oh my gosh, I feel like I knew dad when he was 18, 19, 20 years old," Sturm said.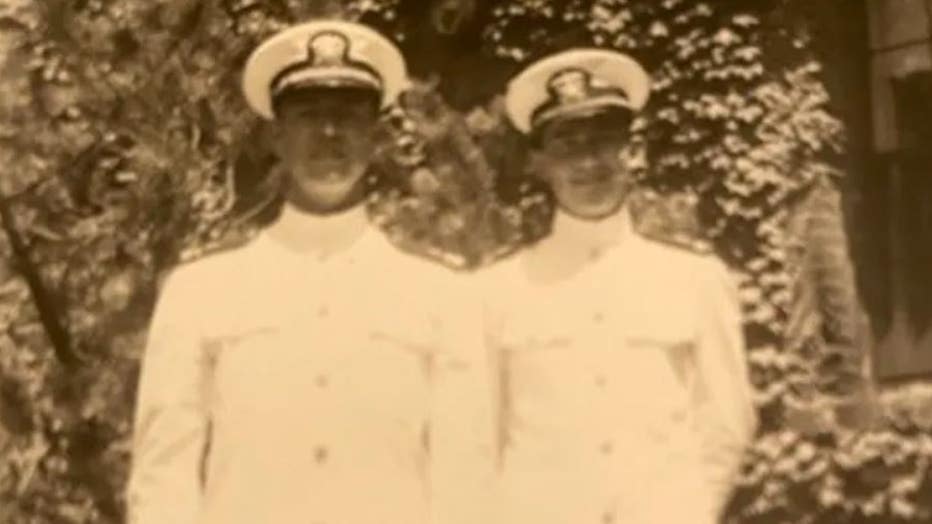 Fred Fonda, left, and Al Sitarski, right, in U.S. Navy dress uniforms in the early 1940s. (Susan Sitarski Sturm)
Though their mission is not yet complete, Sturm said simply finding Fonda's letters to her father was "so wonderful."
She added that sharing the stories of veterans, even from decades ago, is "crucially important" so that "people continue to understand what these men and women do to protect us" and are aware of the dedication and sacrifice involved.