NFL Draft: Eagles add depth with OL Steen, S Brown in 3rd round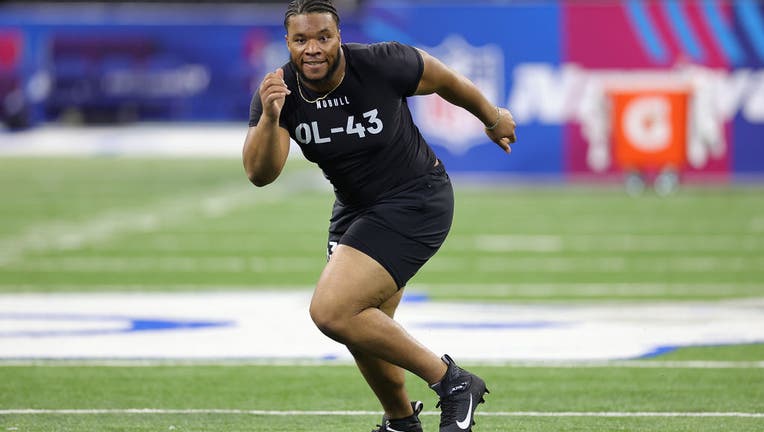 article
PHILADELPHIA - The Philadelphia Eagles saw Georgia players still on the NFL draft board in the third round after taking two Bulldogs in the first round — and four total the last two drafts — and decided it might be time to look elsewhere.
"I was worried they were going to relegate us to the SEC if we took more Georgia guys," Eagles general manager Howie Roseman said Friday night.
The Eagles snapped their Georgia draft-pick streak on Friday night when they selected Alabama offensive lineman Tyler Steen and Illinois safety Sydney Brown in the third round.
The Eagles traded their lone second-pick at No. 62 overall for the 65th pick and one pick in each of the sixth and seventh rounds. Steen went 65th and Brown 66th.
"We want to take a couple more shots," Roseman said.
Brown started 50 games over five years during his Illini career and finished with 319 tackles, 10 interceptions, 26 passes defended, 10 tackles for loss and four forced fumbles. He was a first-team All-Big Ten pick in 2022.
Brown could compete for significant playing time after the Eagles lost safety C.J. Gardner-Johnson in free agency.
Eagles coach Nick Sirianni said it was too early say whether Steen could wrest away one of the starting spots — perhaps from Cam Jurgens — on the offensive line.
"We don't have to make that decision for a while but the best player will play," Sirianni said.
The Eagles believe Friday's draft picks can ease in and become valuable contributors to a team trying to win a Super Bowl after falling short against Kansas City last season. The instant impact players came out of Georgia.
The Eagles have the makings of a defense that already won a national championship. Jalen Carter and Nolan Smith — the two former Bulldogs who won a pair of national titles — are ready to join two former teammates and give a Super Bowl run a try in Philly.
Carter and Smith might have Eagles fans chanting "Go Dawgs" as much as they root for the home team now that four former Bulldogs are on the NFC champions' defense.
They'll be reunited with linebacker Nakobe Dean and defensive tackle Jordan Davis. All four were members of the 2021 Georgia team that won a national championship behind a defense that allowed 10.2 points per game and surrendered 268.5 yards per game.
No wonder the four were in demand — these Dawgs have a championship pedigree.
"It's very cool," Carter said Friday. "Me and Nolan had a great connection at Georgia, and I plan on bringing that to the Philadelphia Eagles and having a great connection out here and balling out."
Carter came with serious baggage. The defensive tackle, projected at one point as possible No. 1 overall pick, fell to ninth in large part because of his role in a car crash that killed a teammate, offensive lineman Devin Willock, and a Georgia recruiting staffer, Chandler LeCroy.
Carter was given one year of probation and fined $1,000 last month after pleading no contest to misdemeanor charges of reckless driving and racing related to the wreck.
Roseman said the organization did its due diligence on Carter and he touted the veteran leadership available to help guide Carter into making better decisions.
Eagles center Jason Kelce attended the draft in Kansas City, Missouri, and was the first player to embrace Carter after he was drafted.
"He's a cool guy to be around," Carter said. "He made it fun for me, just explaining what Philly is about, that it's just a family here, everyone is going to take care of you and you're going to have some fun while being on a business trip playing football."
Smith, a fierce edge rusher who had 110 total tackles and 12 1/2 sacks in four years at the school, defended Carter's character.
"I just always stood up for him just because it's not him," he said. "I know Jalen. I know JC, I call him JC. I don't even call him Jalen; I call him JC 88. JC is just one of those guys that you can really count on to not only do his job, but he's going to do his job plus more and then come dap you up and get everybody hyped up. That's just the type of player he is."
Smith said the similarities between the programs made it easy to envision the same kind of success in the pros they had in college.
"I'd say one thing that we show at Georgia is we have a culture program, so we believe in a culture, and they believe in a culture here at the Eagles," he said. "You felt that walking in the building. This was one of my favorite top-30 visits, just when I walked in the building, the culture, the people around here, they greet you with a smile, they say hello. It was really fun just going from a good culture to an even better culture."