76ers remain unsure if injured Embiid can play in East semis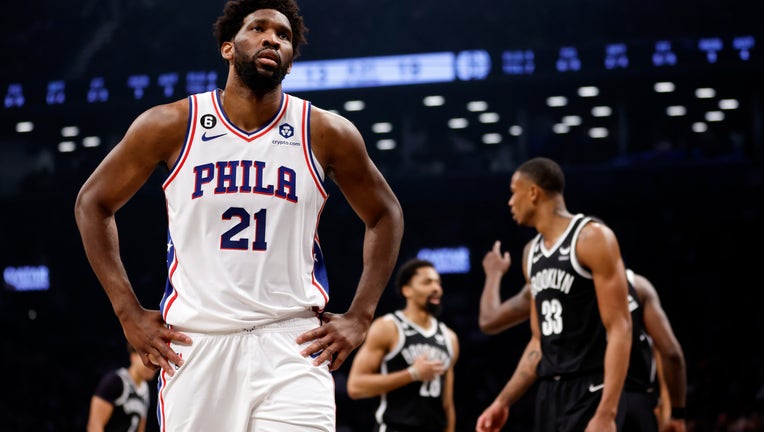 article
PHILADELPHIA - The Philadelphia 76ers still aren't saying if Joel Embiid will be able to return from a sprained right knee and play next week in Game 1 of the Eastern Conference semifinals.
The 76ers completed a sweep of the Brooklyn Nets on Saturday, providing a great opportunity for Embiid to rest up. Embiid, an NBA MVP finalist, missed Game 4 with the knee injury. He has yet to practice ahead of Monday's Game 1 against the winner of the Atlanta-Boston series.
Coach Doc Rivers said Thursday that Embiid was at a doctor's exam while the team practiced at its New Jersey facility.
"I'm just going to wait," Rivers said. "They'll call me later and we'll see where he's at."
The 29-year-old Embiid, from Yaoundé, Cameroon, averaged 33.1 points this season to win his second straight scoring title. He also averaged 10.2 rebounds and tied a career high with 4.2 assists per game. He played in 66 games, the second-highest total of his career.
Embiid missed two games in the second round last year and another in the first round in 2021 with various injuries, on top of the two he missed to begin the 2018 playoffs with an orbital fracture and another in 2019, also with a knee problem.
Whatever happens in the Hawks-Celtics matchup, Rivers said the extended series has increased the chances of Embiid playing in Game 1 in the next round.
"If we played on Saturday, I don't know how realistic it would have been, so that's a good thing," Rivers said.
Embiid averaged 36.8 points and 11.8 rebounds in four games this season against the Celtics.