Caught on camera: 3 men sought stealing vehicles from residences in Moorestown, police say
article
MOORESTOWN, N.J. - Moorestown police were kept busy early Tuesday morning after three men stole two different vehicles from two different homes.
Officials say the first incident police responded to happened on the 200 block of Country Club Drive, around 4:15 in the morning.
A vehicle pulled up and a man was then seen in the victim's driveway, attempting to enter a Dodge Ram 1500 TRX sitting in the driveway. The truck appeared to be unlocked, as the suspect easily slid inside. The key fob was not inside and the suspect failed to start the engine.
The suspect got out of the vehicle and back into the awaiting vehicle he arrived in and pulled off right around 4:17 a.m., authorities said.
RELATED COVERAGE: 
The vehicle returned just after 4:45. Three men got out and used the garage door opener inside the Dodge Ram to gain access to the property. They found the key fob in the garage, and a second suspect got into the Dodge driver seat while Suspect #1 got into the passenger side. The third man got into the passenger side of the awaiting vehicle, suggesting a fourth man not previously seen, was driving.
Police said the two suspects in the truck pulled out of the driveway and drove off with the suspect vehicle.
The second incident happened on the 100 block of Hamilton Court about 4:25 Tuesday morning. The three suspects attempted to get into three vehicles in the driveway, though each of the vehicles were locked.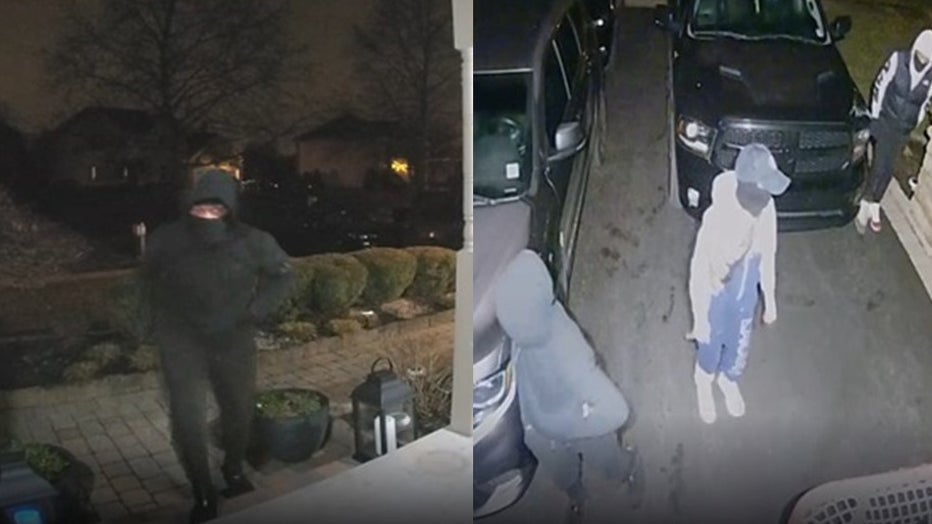 The suspects then tried to get into the house through both front and back doors, but the doors were locked. The suspects took off within a few minutes, officials said.
They returned to the same residence about 5:45. According to authorities, the three made a forced entry into the house through a first-floor window. From there, the three found keys to a Jeep Grand Cherokee Trackhawk in the kitchen.
The three got into the Jeep in the driveway and left the property. They were last seen a little before 6 a.m., traveling on Hamilton Court, toward Brooks Road.
Moorestown Police released these descriptions of the suspects:
Suspect #1 Young man, wearing a black Nike hooded sweatshirt, black pants, black shoes, black face mask and black gloves.
Suspect #2 Young man, wearing a dark-colored baseball cap, navy blue/pink/gray zipped hooded sweatshirt, navy pants with unknown writing, dark facemask, white shoes, white gloves and carrying a black Crossbody bag.
Suspect #3 Young man, wearing a light-colored hooded sweatshirt with black writing on the sleeves, black, puffy zip-up vest, black mask, black pants, black gloves and red and white sneakers.
Anyone with any information regarding the two incidents or any of the suspects is asked to contact Moorestown Police Criminal Investigations Bureau at 856-914-3092.