Federal court deals blow to ATF pistol brace rule ahead of gun accessory registration deadline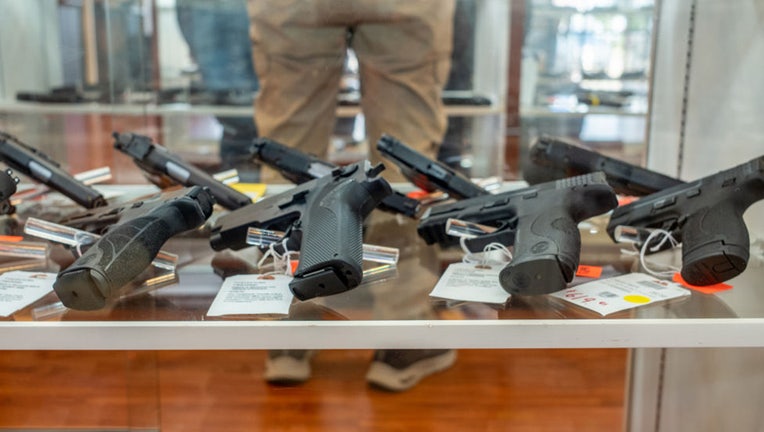 article
A federal appeals court has temporarily blocked the Biden administration from fully enforcing new regulations on pistols with stabilizing braces, gun accessories that President Biden has called "especially dangerous" after they were used in several mass shootings.
The Fifth Circuit Court of Appeals on Tuesday enjoined the Bureau of Alcohol, Tobacco, Firearms and Explosives from enforcing its new rule against gun owners and Second Amendment groups who filed a lawsuit challenging the regulation. The temporary injunction comes days before a deadline for individuals to register their pistol braces with ATF, destroy them, or remove the accessories from their weapons. Those that do not comply with the regulation by May 31 will be forced to pay a fee. The consequences for those that choose not to register their firearm with a stabilizing brace and keep it include up to 10 years' imprisonment or $10,000 in fines or both, according to ATF. 
Gun rights groups have argued in court that the stabilizing brace rule violates the Constitution by requiring millions of gun owners to register their weapons. The Firearms Policy Coalition (FPC), one of the plaintiffs in the case, has called the rule "onerous and unconstitutional." FPC brought the case to the Fifth Circuit after appealing a lower-court order from a Texas judge who declined to block enforcement of the rule while the challenge proceeds through court.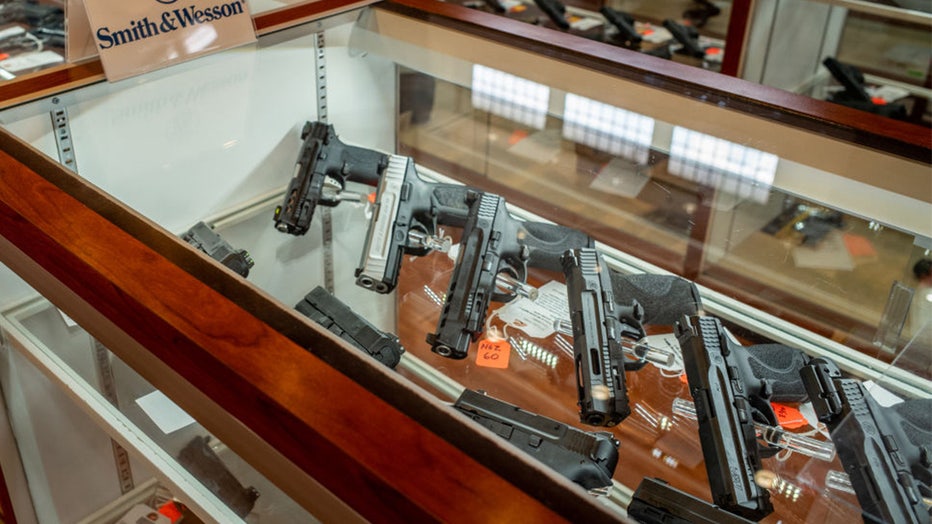 FILE - Smith & Wesson handguns are seen for sale in a gun store on Sept. 09, 2022, in Houston, Texas. (Brandon Bell/Getty Images)
The stabilizing brace rule was introduced as part of the comprehensive gun crime strategy Biden announced in April 2021 in response to the massacre at a grocery store in Boulder, Colorado, where a gunman used a firearm with a stabilizing brace to kill 10 people. In 2019, another mass murderer used a stabilizing brace in a shooting in Dayton, Ohio, that killed nine people. 
GUN RIGHTS GROUPS VOW TO FIGHT BACK AS ATF PISTOL BRACE RULE TAKES EFFECT
ATF defines stabilizing braces as an accessory "that provides a surface area that allows the weapon to be fired from the shoulder, so long as other factors that indicate that the firearm is designed, made, and intended to be fired from the shoulder." 
ATF's rule, which was finalized on Jan. 13, categorizes pistols with attached stabilizing braces as short-barreled rifles, which are heavily regulated by Congress because they are both accurate and concealable, making them dangerous in the wrong hands. Biden has accused the gun industry of attempting to circumvent federal regulations by selling stabilizing braces, which he and his administration claim can "essentially convert a pistol into a short-barreled rifle." 
NRA, 25 STATES SUE BIDEN ATF TO STOP 'ARBITRARY' AND 'UNLAWFUL' PISTOL BRACE RULE
At least three million guns with stabilizing braces are in circulation in the U.S., according to the ATF. Estimates by the Congressional Research Service indicate there are currently between 10 million and 40 million stabilizing braces in circulation. 
Second Amendment advocates dispute the government's characterization of stabilizing braces, pointing out that the accessories were designed to help disabled combat veterans continue to enjoy recreational shooting. They also have argued ATF previously said the addition of a stabilizing brace does not transform a pistol into a long gun in a ruling made a decade ago. 
The full impact of the court's decision wasn't immediately clear. The order applied only to the plaintiffs in the case: two gun owners, a company that makes pistols with stabilizing braces, and a gun-rights group. The appeals court did not say whether the rule was blocked for others, including people who buy the guns from the company, Maxim Defense Industries, and members of the Firearms Policy Coalition.
FIREARMS EXPERT TAUNTS PRO-GUN CONTROL ACADEMICS WITH BET ON RISING CRIME
FPC said in a statement the group is seeking clarification on who is covered under the scope of the injunction. 
"We are very excited and encouraged by the Fifth Circuit's decision this morning," said Cody J. Wisniewski, senior attorney for constitutional litigation at FPC Action Foundation. "We intend to ask the court for additional information about who is covered under the injunction, but cannot stress enough just how important this decision is. The fight is far from over, but this is a huge victory in the battle against the ATF's unconstitutional and unlawful brace rule!"
CLICK HERE TO GET THE FOX NEWS APP
The Department of Justice and ATF did not immediately respond to requests for comment. 
The Associated Press contributed to this report.