Gov. Shapiro makes friendly bet with governors of Missouri and Kansas ahead of Super Bowl LVII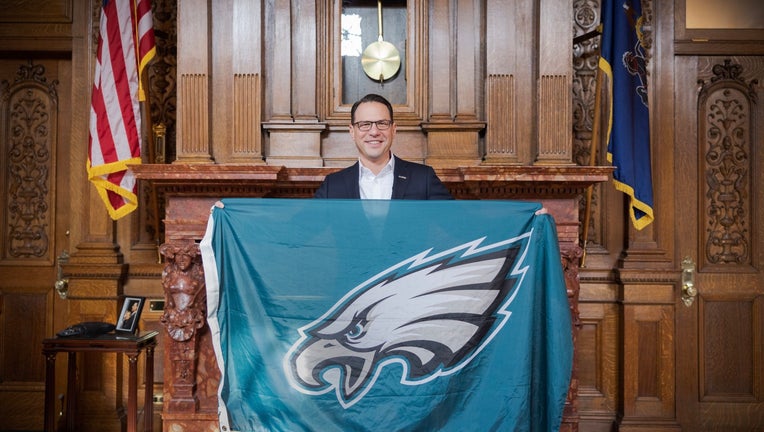 article
HARRISBURG, Pa. - Pennsylvania Governor Josh Shapiro is confident in the Philadelphia Eagles, so much so, he announced friendly bets with both Governor Mike Parson, of Missouri, and Kansas Governor Laura Kelly, in advance of Super Bowl LVII.
The home of the Kansas City Chiefs is Kansas City, Missouri, but KC's border is on the state line with Kansas, creating a larger base of fans.
Governor Shapiro and Governor Parson are exchanging Eagles and Chiefs flags. The loser will display the victor's flag in their office for one solid week.
Governor Shapiro and Governor Kelly have bet the losing side will send the winner an assortment of local foods for the victor to enjoy. Governor Shapiro would send cheesesteaks, from Tony Luke's, Eagles mini donuts from the Collegeville Italian Bakery and soft pretzels from Philly Style Hand Twisted Soft Pretzel Bakery, in Levittown.
Do we think that will be necessary?
Governor Kelly will send Creekstone Farms Black Angus Beef and chocolate-covered sunflower seeds in the event of a Chiefs loss.
All of the bets are in good fun ahead of the game Sunday.
"Like millions of Pennsylvanians, Lori and I are excited to cheer on the Philadelphia Eagles and watch them bring the Lombardi Trophy back to the Commonwealth," said Governor Shapiro. "Pennsylvania is home to the greatest small businesses in the country – and while I love to share the best Pennsylvania has to offer with my friends in other states, the Eagles have been so good this season that I'm willing to double down on a win this week. Go Birds!"
Governor Shapiro and First Lady Lori Shapiro will travel to Arizona to see the game live. Gov. Shapiro also plans to meet up with both Governor Parson and Governor Kelly, to make sure they fulfill their end of the agreement.
#GoBirds !!!