'He wasn't breathing': Burlington County man thanks couple who performed CPR after heart attack
MARLTON, N.J. - A local man has a major heart attack and lives to tell his story of survival and gratitude.
Ken Hogan and his daughter dined at Kettle and Grille, in Marlton, New Jersey, in November when he suffered a cardiac arrest. Two months later, he finally had a chance to say thank you to two bystanders and emergency responders who helped save his life.
"It reinvigorates us, in terms of what we do and why we do it," President of Virtua Voorhees and Virtua Marlton Hospitals, Paul Minnick, said.
Everyone, from the doctors to the nurses and responders, had a hand in Hogan's recovery.
But, the moment was also important for the 58-year-old and his family to express their appreciation first and foremost to one couple.
MORE HEADLINES:
"For the Curtis's, there's just nothing at all that we can say to show our gratitude," Maria Hogan, wife of Ken, stated.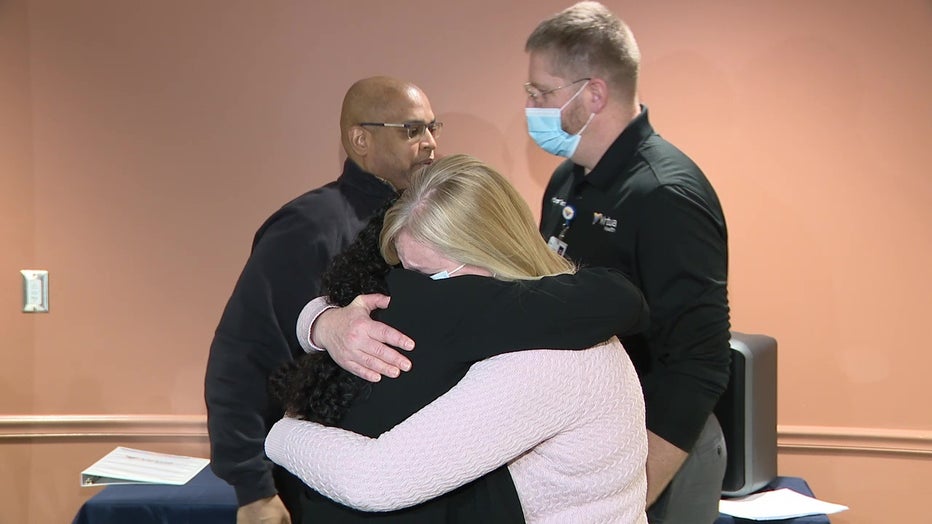 Their daughter, Dallas, said, "I just remember some guy in a gray hoodie yelling, 'Should I start CPR?' and I told him, 'Yes, do it!'"
Jackie and Tim Curtis were at the same restaurant in late November when Ken went into sudden cardiac arrest.
"We determined that he wasn't breathing and then we started doing two-person CPR," Tim Curtis explained.
Tim worked as an EMT in the past and his wife, Jackie, was trained in CPR as a lifeguard.
"We just wanted to make sure that we communicated with the person who's on the phone with 911 that he didn't have a pulse, that he wasn't breathing, that he was diabetic, just so that when the EMTs arrived, they had all the information they needed to get started," Jackie explained.
The Curtis's say first responders used a defibrillator right away. Virtua Health says it took half an hour and nine shocks to get a rhythm back in Ken's heart.
Doctors in the Emergency Department learned a blood clot led to Ken's massive heart attack. After surgery, he spent a few weeks in the hospital, followed by rehab and therapy. While his recovery was uncertain, at first, doctors say having CPR right away likely doubled or even tripled his chance of survival.
Ken and his family were welcomed back to Virtua Health this time in celebration of his recovery. They entered a room full of doctors, nurses and emergency responders who helped treat and care for him.
The Hogan's also took the chance to express their deepest gratitude for all the healthcare professionals and the Curtis's who jumped in to save Ken's life. "You afforded me the opportunity to see my first grandchild in a couple of months," said Ken.
"We both feel very strongly that everybody should get certified in CPR just in case, you never know," said Tim.
Virtua Health is offering CPR and Basic Life Support classes which you can schedule here, or by calling 856-581-7580.