Marine veteran on hunger strike to draw attention to Philadelphia's rampant gun violence
PHILADELPHIA - As part of a protest against the scourge of gun violence plaguing Philadelphia, Marine corps veteran Jamal Johnson has gone on a hunger strike to urge city leaders to take action. 
"Mayor Kenney is not addressing the gun violence problem in Philadelphia. We are trying to stop the carnage in the streets. Anybody can be shot or killed in this city," Johnson said while picketing outside city hall on Thursday. 
Johnson has been on hunger strike since Jan. 18 after deciding to make a dramatic personal sacrifice to match what he believes is a public emergency. He's hoping to get Mayor Kenney's attention about a multi-step resolution on gun violence that he claims City Council brought to the mayor five months ago.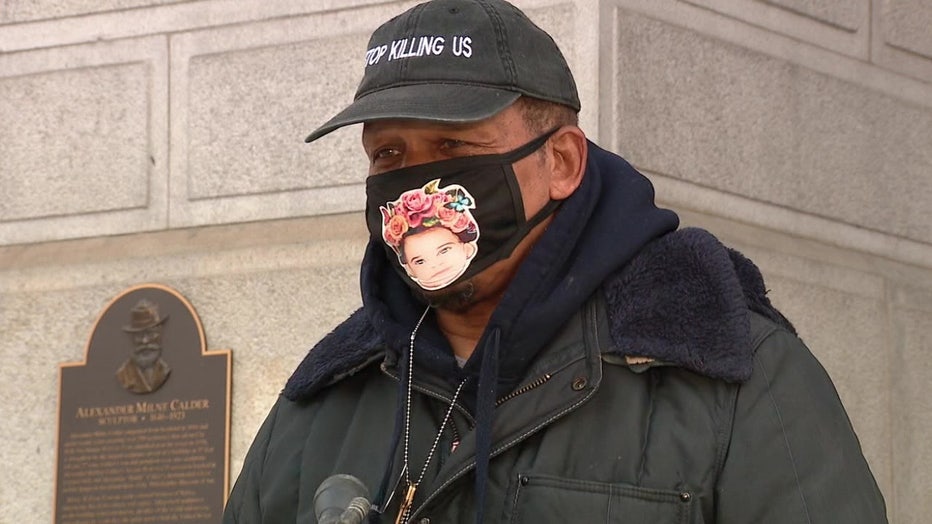 Jamal Johnson started a hunger strike on Jan. 18 to call attention to the city's ongoing rash of gun violence.
"The main one being that gun violence be labeled an emergency in the city of Philadelphia and treated with the same urgency and transparency as Covid-19," Johson said. 
He started sleeping outside City Hall but said he was told he couldn't camp out there. So now he protests Monday through Friday and then on the weekend he takes his protest to the mayor's house. 
"Seeing the shootings going on randomly I just thought it was time for me to go another step and put my own self on the line and let the mayor see how serious I and others are," Johnson said.
His mask bears the face of Nicolette Rivera, a 2-year-old who was killed when a stray bullet went through her window in Kensington. Johnson says to this day he hasn't gotten a response from the mayor about signing the resolution.  
"I do not believe we will ever stop homicides but I do believe we can drastically reduce them if we get involved. We, being the community in alignment with the administration," Johnson said. 
Meanwhile, Kenney's office issued the following statement Thursday night about Johnson's hunger strike protest: 
___
For the latest local news, sports and weather, download the FOX 29 News app.
DOWNLOAD: FOX 29 NEWS APP
Sign up for emails from FOX 29, including our daily Good Day Digest newsletter