Philadelphia worker dead after being trapped under concrete balcony in Sea Isle City, officials say
SEA ISLE CITY, N.J. - Officials say a 43-year-old construction worker is dead after a concrete balcony collapsed at a condominium in Sea Isle City, trapping the man and sparking an hours-long recovery operation.
Emergency crews responded to the Spinnaker Condominium Complex on the boardwalk between 36th and 37th streets around 2:20 p.m. Friday for reports of a collapse.
Officer Jim McQuillen from the Sea Isle City Police Department said two construction workers were on the 8th floor when the balcony collapsed onto a worker on the 7th floor. 
Another victim, identified by officials as 43-year-old Jose Pereira from Philadelphia, was pinned under the 30-foot balcony, estimated to weigh between 11,000 and 15,000 pounds, causing structural concerns. 
Emergency crews worked to reach the victim, but the side of the building was deemed unsafe due to significant cracks and the balcony's slope.
Additional rescue teams and equipment were called to the scene as a recovery plan was devised, which included cutting through 12-inches of reinforced concrete.
"Once an opening was created in the wall, the concrete slab was lifted by heavy lift airbags and the victim was successfully recovered," police said in a release Saturday morning.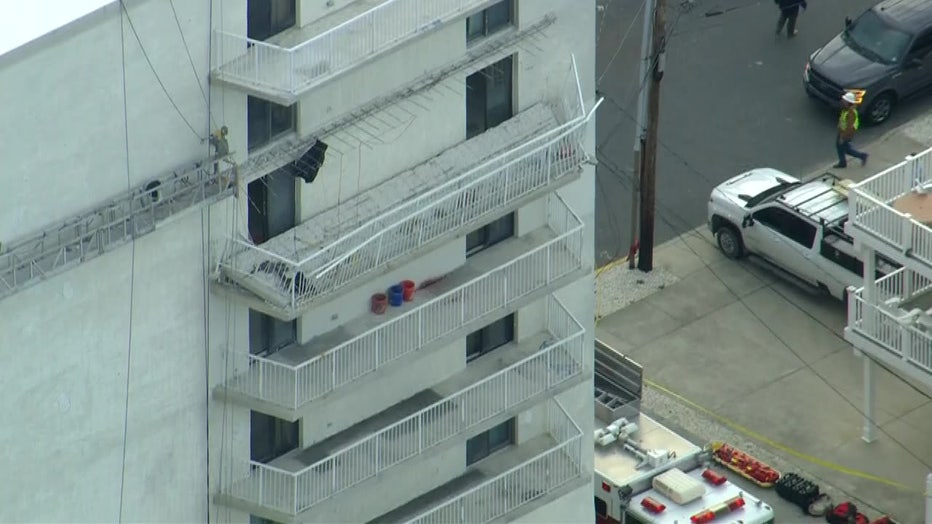 The victim was pronounced dead at the scene around 10 p.m., and transported to Cape May County Medical Examiner's Office. Pereira was employed by Ferguson Contracting, Inc., of Yardley, Pennsylvania.
The two workers on the upper floor were treated for minor injuries, according to police. 
The building was mostly unoccupied at the time of the collapse, according to officials, but five people were evacuated.
All the decks near where the incident occurred are currently being stabilized. Private engineers will further evaluate the building after the affected tower is considered safe.
An investigation is also underway by local law enforcement and Occupational Safety and Health Administration.