Overbrook shooting: 4 students hurt in shooting near Overbook High School, police say
OVERBROOK - Four Philadelphia high school students are in stable condition after they were shot following early dismissal Wednesday, police say. 
The shooting happened around 11:30 a.m. near Overbrook High School, in the area of W. 60th Street and N. Columbia Avenue.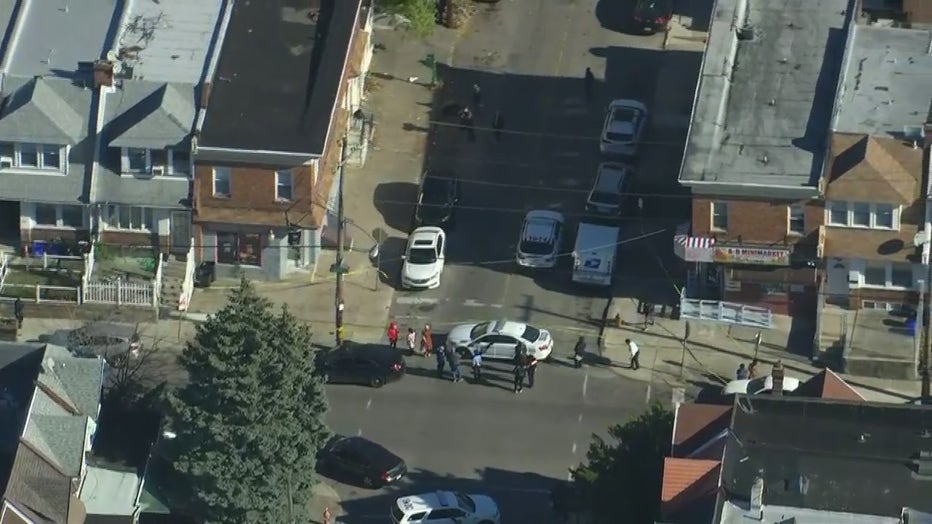 Police say a 15-year-old girl suffered gunshot wounds to the shoulder and left thigh. A second 15-year-old girl was also struck in the shoulder.
A 16-year-old boy was grazed in the face and also shot in the left hand, while another 16-year-old boy was shot in the right leg. 
Police say the four victims are Overbrook High School students. The two female victims are sisters, according to officials. 
The shooting occurred a short time after the students had been dismissed early from school for parent-teacher conferences ahead of the Thanksgiving holiday. 
No weapon has been recovered and no arrest has been made. 
Overbook High School was temporarily locked down after the shooting.
A nearby beauty salon was struck with bullets, while one patron inside managed to remain uninjured. Owner Satarra Parker, said, "Please just be respectful of the civilians. Like, it's ridiculous. We have people dying left and right that has nothing to do with what's happening." Her shop was supposed to have their biggest event of the year Wednesday night, at the salon, but is now closed through the weekend, at least.
"Our officers that were in the area, as a result of school dismissal, they actually heard the gunshots," First Deputy Commissioner, with the Philadelphia Police Department, John Stanford said.
Kevin Bethel, Chief of School Safety for the School District of Philadelphia, added, "It's unacceptable. We could've lost a child today. Some folks need to be standing here, answering questions. You carry a gun here, in the city, something should happen, period. It's not just a policing problem. It's not just the superintendent's problem, it's a parent problem going on, too."
Superintendent Dr. Tony Watlington, Sr., stated, "We're going to have to have some real serious help to get our arms around our city problem with these guns."
Philadelphia Federation of Teachers President Jerry Jordan released a statement following the shooting, pointing out the scourge of recent gun violence across the city and the country. 
"In the past two weeks, we have seen the relentless impact of this crisis across the nation, with deadly mass shootings at UVA, at Club Q in Colorado Springs, and at a Chesapeake, VA Walmart. In 2022 in our beloved city, we have seen the devastation wrought by this crisis with 435 fatal shootings as of yesterday," Jordan's statement reads in part. "Today, students leaving Overbrook High School, ready for time off from school with their loved ones, had their lives upended by the devastation wrought by gun violence. No one should have to go to school in fear. Or go to a club in fear. Or go to work in fear. Or simply exist in fear for their life."
In addition, the School District of Philadelphia released its own statement regarding the ongoing gun violence, saying, in part:
"We are devastated how senseless gun violence continues to plague our city. Its impact extends to all students, staff, and school communities. The ongoing violence erases everyone's sense of safety, especially during peak school times, such as arrival and dismissal periods. As a result, the District will continue to invest in programming to support safety, including the Safe Path Program and School Safety Zones. We appreciate the police department's ongoing support, and will continue to support the City in its efforts to ensure the safety of our communities, especially our young people."
Governor Tom Wolf added his thoughts, saying:
"I'm so tired of the lack of action, the innocent lives lost and Pennsylvanians hurt because we can't come together to pass more commonsense gun laws. Enough is enough. Today, four young Pennsylvanians were shot the day before Thanksgiving. We live in a country where we can't walk home from school, go to the grocery store, or gather in sanctuary with our community without bloodshed.
I'll say it again: enough is enough. It's been too little for too long. Pennsylvania's General Assembly needs to act now. The recent shootings across our country leave families with holes in their hearts and empty seats at the Thanksgiving dinner table. And I've had enough."
___
Tips can be submitted by calling 215-686-TIPS (8477) or texting PPD TIP (773847). Tips can also be submitted anonymously online, here. All tips are confidential.
Click here to find resources for victims of violence in Philadelphia.