Phoenix hiking warnings as thousands visit Super Bowl LVII, WM Phoenix Open
PHOENIX - With so many visitors in town this week, Phoenix safety officials expect our mountains and trails to draw a lot of visitors.
While many of us locals may be familiar with how strenuous the hike up Camelback Mountain really is, those from out of town may underestimate the difficulty and find themselves in an emergency situation.
Aside from golf and football events, a lot of visitors want to experience Arizona's natural beauty, but some tourists are finding out the hard way that hiking our mountains is no walk in the park.
We found several out-of-towners at the Echo Canyon Trailhead on Wednesday who hiked Camelback Mountain for the first time.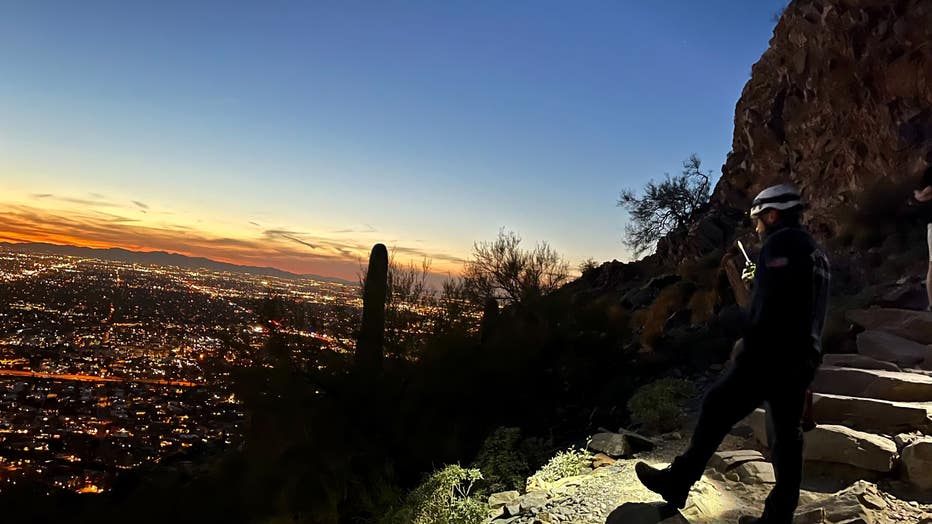 Rescue on Camelback Mountain. Photo courtesy of the Phoenix Fire Department
"I didn't know what I was expecting, but it's definitely a lot steeper, definitely a lot more climbing than trails, so that was a surprise to me," says Joshua Schaben, visiting from Nebraska.
Adam Wredberg, visiting from Wisconsin, agrees.
"Looked beautiful based on the pictures, just went about halfway up with the kids. It was pretty strenuous, but really fun," he said.
Unfortunately, not all tourists make it down the mountain on their own. Phoenix Fire's technical rescue team was called out for a night operation after a group of hikers realized too late that the trail is not lit after dark.
"We had a group of people from out of town that wanted to take a hike," said Phoenix Fire Capt. Scott Douglas. "When it got dark, they couldn't find the trail. They wanted to watch the sunset, so we had to escort them down the hill."
Firefighters want to educate visitors of these essentials while hiking: drink water, bring water, bring a fully charged cell phone, and wear appropriate attire.
In another instance, a hiker started up Camelback Mountain without a shirt – and without any shoes on.
"Hiking without shoes is not something that we recommend – a good pair of boots with ankle support. What we come out here for the most is broken legs, broken ankles, twisted knees, things along those lines," Douglas said.
Even when it's nice outside, which is as of late, it's much hotter making your way up the mountain. With the radiant heat from the rocks on an 80 degree day, it could feel like triple digit heat up there.
A reminder, too, last year, several hikers died on Phoenix mountains during the extreme heat. Know your limits and turn around so you don't become a mountain rescue statistic.
More information can be found here: https://www.phoenix.gov/parks/trails/take-a-hike-do-it-right
More reports:
Tune in to FOX 10 Phoenix for the latest news: