Police: 8-year-old girl grazed in the head by stray bullet from ambush shooting near Temple University
PHILADELPHIA - Authorities say an 8-year-old girl suffered a non-fatal graze wound to the head when a shooting erupted near Temple University on Thursday night. 
Officers from the Temple Police Department and Philadelphia Police Department responded to the 1500 block of North 13th Street just before 9 p.m. for reports of a shooting.
Deputy Commissioner John Stanford told reporters that a vehicle with multiple shooters inside ambushed another car that was driving by, unleashing nearly 50 shots. 
The girl was near the front door of a home when she was grazed in the head by stray gunfire, according to Stanford. 
Police say a person inside the targeted vehicle was struck in the leg and taken to Temple University Hospital.
In doorbell footage provided by a neighbor, a police officer is seen running out of the home with the injured girl and immediately takes her to the hospital. Her grandmother is praising the quick action of the police officer.
"I'm so proud of him, because he literally, picked her up and ran to the car and they were out!," the grandmother exclaimed. "They were out and I'm so thankful to him."
In a photo provided by the young girl's mother, the brave girl is seen bandaged and recovering from her bullet graze wound.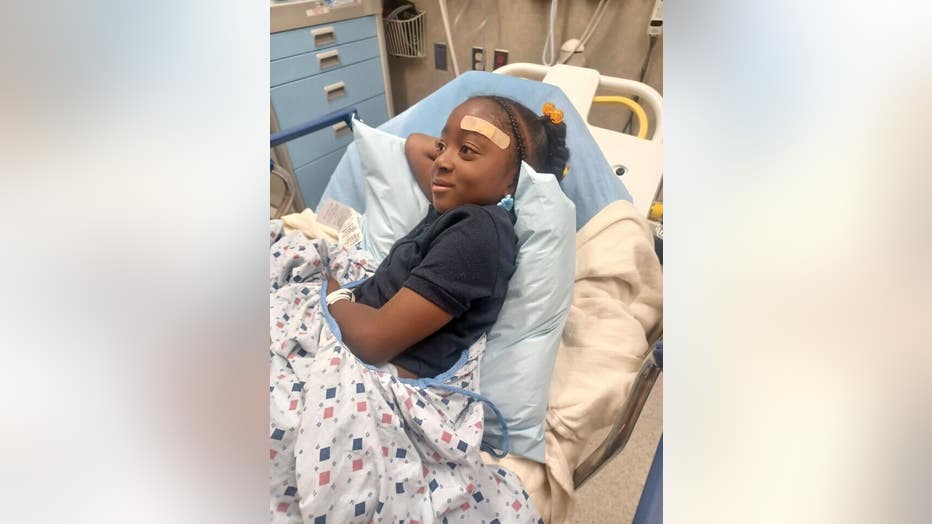 Philadelphia Police say they have not identified any suspects in the shooting.
"We need help on that one, so if someone knows who these individuals are…they were obviously waiting for that vehicle and targeting that vehicle, but we don't have a real good description or much video, in that case," Philadelphia Police Commissioner of Investigations Frank Vanore said.
While the graze wound may heal, the mental trauma of being grazed by a bullet at such a young and innocent age will be the true battle the girl faces.
"I'm just thankful now that she's okay, considering what went down. It's just her mentality now, as far as being outside, because she told her mother that she don't wanna play outside when it's nighttime anymore," the grandmother added.
Temple alerted its campus on Twitter about the shooting investigation and urged people to avoid the area. 
A Temple spokesperson told FOX 29's Jennifer Joyce that a stray bullet from the shooting went through a nearby dorm window and lodged in a wall.
No students were present when the bullet tore into the dorm, the spokesperson said.
In a statement, Temple University officials said:
"This community's safety is our number one priority. That cannot be understated. We understand and acknowledge the seriousness of this incident and know there is no making sense of the gun violence epidemic plaguing cities and towns across the United States. We must work together to find solutions."
No arrests were reported immediately following the shooting and police did not provide a description of the suspect's vehicle.
Philadelphia Police Commissioner Danielle Outlaw took to twitter following the shooting to voice her frustrations and demand justice.
___
Tips can be submitted by calling 215-686-TIPS (8477) or texting PPD TIP (773847). Tips can also be submitted anonymously online, here. All tips are confidential.
Click here to find resources for victims of violence in Philadelphia.