Powerful winds topple trees, leads to power outages throughout the area
PHILADELPHIA - Powerful winds toppled trees and led to power outages throughout the area Thursday afternoon.
DOWNLOAD: FOX 29 WEATHER AUTHORITY APP
The Dunns were home at the time when a Spruce tree started cracking around 2 p.m. outside their Nether Providence home. When they heard more cracking they ran outside into their car. The tree came crashing down into their dining room right where their daughter, who is a teacher, was just doing school work.
"I'm a teacher and I had set up my office space in that room there. That's my room there above the deck here and our kitchen. It sounded like a big train coming through," Shannon Dunn told FOX 29.
A tree also fell onto the car of a Brookhaven woman in Nether Providence Township. Harriett Guions was out getting groceries for her elderly mother when it happened. Thankfully, she walked away unharmed.
"It just fell. The tree just fell. It just hit it.  All it did was scare me. I'm fine. I'm not hurt. I'm blessed," Guions said.
A Tulip Poplar tree landed on the deck of a home in Exeter Township, Berks County, breaking a window.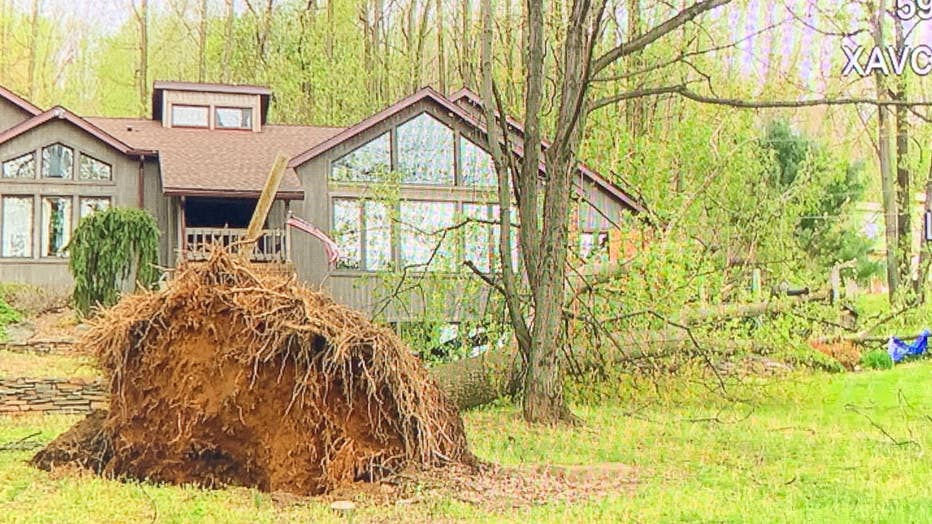 Exeter Township, Berks County.
Wind gusts reached 60 mph and were accompied by heavy downpours. A flood watch remains in effect until Friday afternoon.
RELATED: Weather Authority: Intense wind, p.m. downpours slated for region
___
For the latest local news, sports and weather, download the FOX 29 News app.
DOWNLOAD: FOX 29 NEWS APP