Trump to be arraigned Tuesday without handcuffs, sources say
NEW YORK - After being indicted by a Manhattan grand jury, former President Donald Trump is expected to be arraigned in court on Tuesday, a law enforcement source has told Fox News.
Judge Juan Merchan is the trial judge presiding over the case, which stems from Manhattan District Attorney Alvin Bragg's investigation into alleged hush money payments Trump made to porn star Stormy Daniels in 2016. Trump is scheduled to be arraigned at 2:15 p.m. in Merchan's courtroom on the 15th floor at 100 Centre Street in New York City.
In addition to Trump's personal attorney Joe Tacopina, a second source has confirmed that Trump has made arrangements with the district attorney's legal team to surrender without handcuffs. Detectives with the DA's office will handle the arrest.
Law enforcement agencies including the U.S. Secret Service, New York Police Department, FBI, New York State court officers and the DA's office will meet Friday afternoon to finalize details about the logistics and security of Trump's arrest.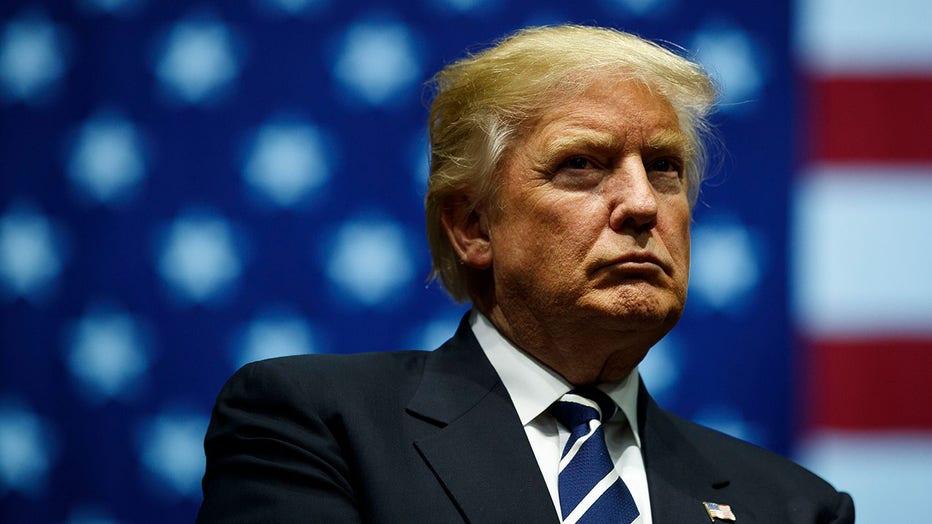 President-elect Donald Trump looks on during a rally at the DeltaPlex Arena, December 9, 2016 in Grand Rapids, Michigan. President-elect Donald Trump is continuing his victory tour across the country. (Photo by Drew Angerer/Getty Images)
The Secret Service will determine how Trump is brought in, the source familiar said. 
Sources previously told Fox News that Bragg had requested that Trump surrender to his office Friday after the grand jury voted to indict him Thursday evening, but the Secret Service delayed his surrender. 
RELATED: Why was Trump indicted? What to expect in New York hush money case
The indictment of a current or former president of the United States is unprecedented in American history. The criminal charges against Trump come after a years-long investigation into a $130,000 payment to Daniels and another $150,000 payment to former Playboy model Karen McDougal, allegedly to keep them quiet about alleged sexual liaisons they had with Trump during his first campaign for the presidency. Trump has denied the affairs and any wrongdoing.
Those payments had been investigated by the U.S. Attorney's Office in the Southern District of New York and by the Federal Election Commission.
Federal prosecutors in the Southern District of New York opted out of charging Trump related to the Daniels payment in 2019, even as his then-attorney Michael Cohen implicated him as part of his plea deal on campaign finance violations. The Federal Election Commission also tossed its investigation into the matter in 2021.
"This evening we contacted Mr. Trump's attorney to coordinate his surrender to the Manhattan D.A.'s Office for arraignment on a Supreme Court indictment, which remains under seal," a spokesperson for the Manhattan District Attorney's Office said in a statement Thursday. "Guidance will be provided when the arraignment date is selected."
RELATED: Can Donald Trump still run for president despite indictment?
Trump reacted by slamming Bragg for his "obsession" with trying to "get Trump," while warning the move to charge a former president of the United States will "backfire."
"This is Political Persecution and Election Interference at the highest level in history," Trump said in a statement. "From the time I came down the golden escalator at Trump Tower, and even before I was sworn in as your President of the United States, the Radical Left Democrats- the enemy of the hard-working men and women of this Country- have been engaged in a Witch-Hunt to destroy the Make America Great Again movement."
The investigation into Trump was opened in 2019 by then-Manhattan District Attorney Cyrus Vance. The probe was focused on possible bank, insurance and tax fraud. The case initially involved financial dealings of Trump's Manhattan properties, including his flagship Fifth Avenue building, Trump Tower, and the valuation of his 213-acre estate Seven Springs in Westchester.
Last year, the investigation led to tax fraud charges against The Trump Organization and its finance chief Allen Weisselberg.
Fox News' Brooke Singman contributed to this report.