'We lost a good one': Community remembers officer who died from injuries sustained in line-of-duty shooting
HOPEWELL, N.J. - A New Jersey community gathered Monday to mourn the loss of a local officer who died two months after he was shot during a struggle with an armed suspect. 
Deptford Township Police Officer Bobby Shisler, 27, died Sunday from injuries he sustained during a pedestrian stop turned shooting on Mar. 10. Investigators say Officer Shisler and 24-year-old Mitchell Negron engaged in a struggle on Doman Avenue when both were shot. 
Negron was pronounced dead at the scene, according to police, and Officer Shisler was taken to Cooper University Hospital for emergency surgery. In the months since the deadly altercation, Deptford and surrounding communities rallied around Officer Shisler with 'Shisler Strong' t-shirts and yard signs.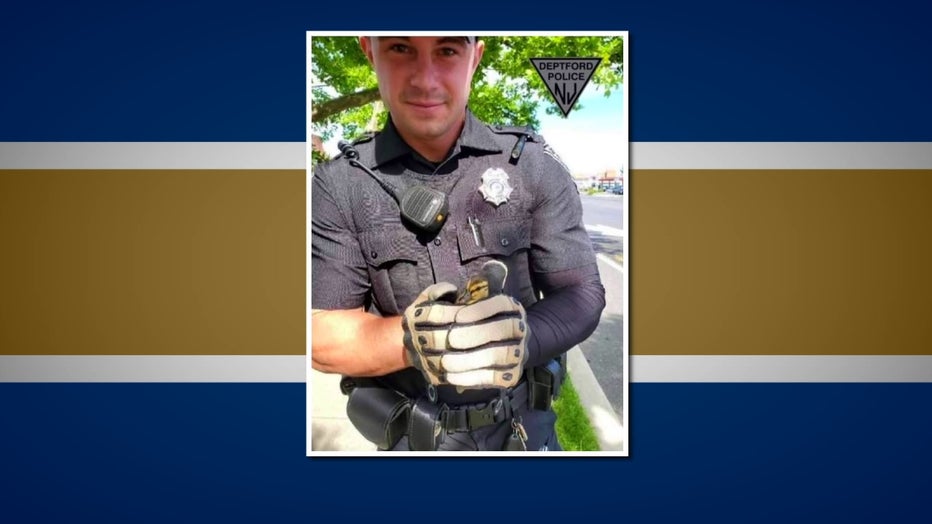 "The impact that he's had on this community, the impact that he's had on the Delaware Valley is immense," Det Sgt. Bob Jones said. "It's something we'll never forget." 
Hundreds of law enforcement members from around the area escorted Officer Shisler's body to the Medical Examiner's Office in Philadelphia. A growing memorial outside the Deptford Township Police Department was visited Monday by family, friends and community members. 
"My son hung around with (Officer Shisler's) younger brother who is now a police officer here," Jim Reid said. "He was a good guy, stuff like this shouldn't happen, very sad, we lost a good one."
Officer Shisler was remembered by those who knew him as a gentle giant who enjoyed weight lifting and spreading an infectious smile everywhere he went. 
Hundreds of police officers, bike clubs, firefighters, and Jeep clubs gathered at a Deptford Walmart before parading through the town in Shisler's honor. The parade drove past the Deptford Police Department where there's a growing memorial, and continued past Shisler's grandparents house. 
"This is amazing the fact that this community has come together for Bobby," Jesse Rowe, a lifelong friend of Shisler's who organized the event, said.
Officer Shisler will be laid to rest on Wednesday, May 17 at Pfleeger Concert Hall on the campus of Rowan University. A pass and reflection service will be held before the funeral honors for family and friends of the fallen officer.
The Deptford Township Board of Education announced they will close its schools in honor of Officer Shisler's services. Superintendent Kevin Kanauss says many of the staff at Deptford schools have been a part of Officer Shisler's life before he got involved in law enforcement. 
"Many of us taught or coached Bobby and want nothing more than to be present for the service to remember and honor him," said Kanauss in a statement. 
The district updated their calander, which can be accessed here. Kanauss says the original date of graduation has not changed.