Storm dumps snow across area Friday morning with more winter weather expected Sunday
PHILADELPHIA - A storm that brought snow to most of the area overnight and into Friday morning is moving out of the area, leaving several inches of snow behind and prompting area schools to call closures or delays.
The storm moved into the area around 7 p.m. and continued east, engulfing the entirety of the Delaware Valley by around midnight. 
The snow continued through the early morning hours and into the morning commute. It began to taper off as the storm moved off the coast by around 7 a.m.
How much snow did we get? 
Philadelphia and most of the suburban areas of Pennsylvania, Delaware, and New Jersey saw anywhere from 2-4 inches, as forecasters had predicted. 
Around 6 a.m., FOX 29's Scott Williams says areas like Buckingham Township and Hilltown Township in Pennsylvania had each seen four inches of snow.
Medford, New Jersey is reporting 5 inches of snow, along with Howell in Monmouth County. West Berlin, New Jersey had also seen more than three inches. 
Forecasters had also predicted slightly higher totals, around 4-6 inches, in an area stretching from central New Jersey down into Delaware. 
For more snow totals from the National Weather Service, click here. 
Will it stay cold Friday? 
If you're heading out for the day, or just going out to shovel, you'll want to bundle up. After the snow tapers off, temperatures will stay in the 20s and 30s. It will stay that cold cold through most of the day Friday. 
Saturday will be sunny, but it will also bring more of the same with high temperatures not expected to break out of the mid-to-low 30s. 
When is the next chance of winter weather? 
Forecasters say Sunday could bring some freezing rain during the morning and into the afternoon. That ice and freezing rain is expected to switch over rain for most of the area during the early afternoon. 
The freezing rain is expected to mostly impact areas for the north and west.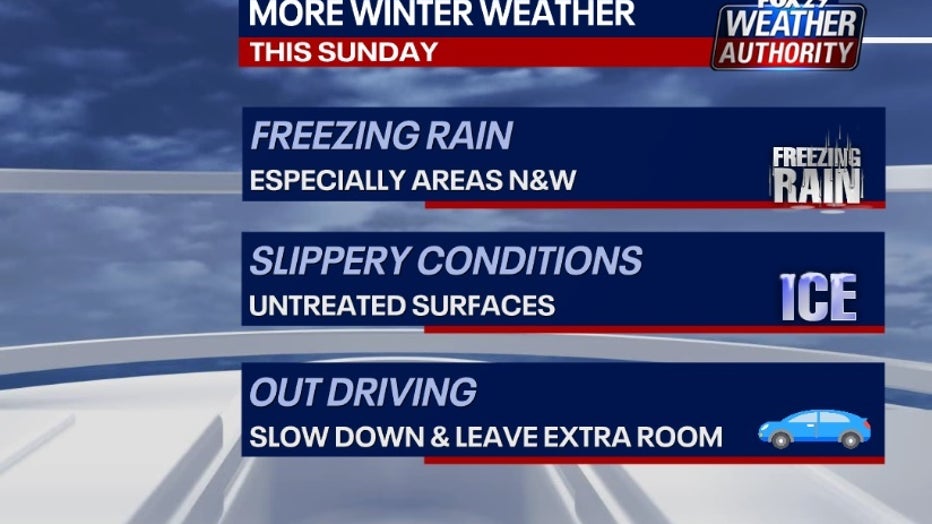 Temperatures are forecasted to stay around freezing at the surface long enough to produce a light glaze of ice and cause possible problems on untreated surfaces.
A gradual changeover to all rain from west to east is expected by the afternoon with highs getting into the low 40s.
Temperatures at the beginning of next week will stick in the 20s and 30s. 
Download the FOX 29 Weather Authority app for the latest forecasts and conditions. 
___
FRIDAY: Windy, cold. High: 34, Low: 30
SATURDAY: Sunny, cold. High: 32, Low: 21
SUNDAY: Ice to rain. High: 38, Low: 24
MONDAY: Windy, cold. High: 34, Low: 29
___
DOWNLOAD: FOX 29 NEWS APP | FOX 29 WEATHER AUTHORITY APP
SUBSCRIBE: Good Day Digest Newsletter | FOX 29 Philly on YouTube