Maxey gives 76ers spark in 119-108 win over Knicks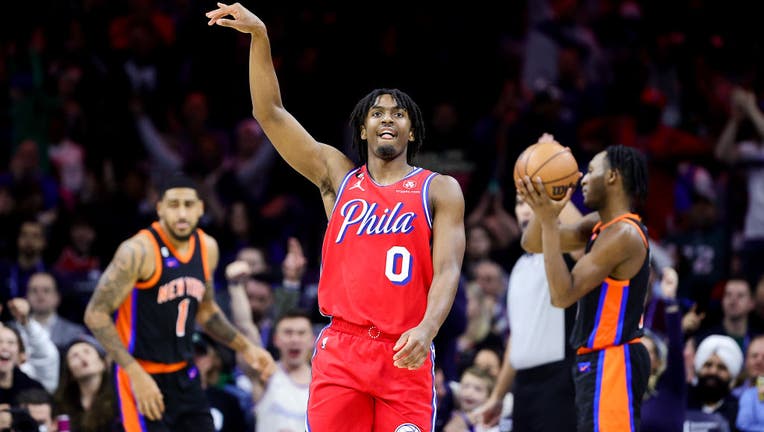 article
PHILADELPHIA - Tyrese Maxey provided a huge boost off the bench, scoring 27 points to help the Philadelphia 76ers rally from a 13-point deficit for a 119-108 win over the New York Knicks on Friday night.
Joel Embiid had 35 points and 11 rebounds on 14-of-18 shooting from the floor, while James Harden added 20 points and 12 assists to help the Sixers gain a measure of revenge for a loss in New York on Sunday night when Philadelphia reinquished a 21-point lead.
Julius Randle and Jalen Brunson both scored 30 points for the Knicks.
Maxey was part of a key stretch late in the third quarter that changed the momentum of the contest.
After trailing by eight after a layup by Harden, Maxey stepped in front of a poor inbounds pass by R.J. Barrett and drilled a 3-pointer to cut a 10-point deficit to five and wake a sleepy Wells Fargo Center.
The Sixers were a plus-27 with Maxey on the floor Friday.
Embiid added six assists and was instrumental down the stretch, including a three-point play with 1:36 left to stretch the 76ers' lead back to six after the Knicks had made a run.
Brunson, who played his college ball at Villanova and frequently played at the Wells Fargo Center, established the tone early for the Knicks by scoring 20 points on 8-of-10 shooting from the floor in the first quarter. Randle was 11 for 20 from the floor and 5 for 11 from beyond the 3-point line, grabbing 10 rebounds.
TIP-INS
Knicks: Josh Hart, acquired Wednesday night in a trade with Portland, was cleared through his physical Friday afternoon, but was declared inactive for the game. "We just want to see where we are," Knicks coach Tom Thibodeau said. When asked what role Hart, a Villanova teammate of Brunson on the 2016 NCAA champions, will have for the Knicks, Thibodeau was more circumspect. "Whether he comes off the bench doesn't matter to me," Thibodeau said. "He can play with different groups and his physicality is a natural."
76ers: The Sixers activated Jalen McDaniels, who was picked up at Thursday's trade deadline from Charlotte in a four-team deal that sent Matisse Thybulle to Portland. McDaniels did not play, however, after passing his physical. "His athleticism and his multi-positional abilities play well," Philadelphia coach Doc Rivers said. "He's a high energy guy." ... Rivers said Furkan Korkmaz was fine despite not being traded at the deadline. Korkmaz had asked for a trade earlier in the week after undergoing a drop in playing time upon the return of Maxey to Philadelphia's rotation. "I think he's in a good spot," Rivers said. "He's not in a great spot, because he wants to play. But he's good."
UP NEXT
Knicks: Host Utah on Saturday night.
76ers: At Brooklyn on Saturday night.