NFC champion Eagles have sweet spot pick at No. 10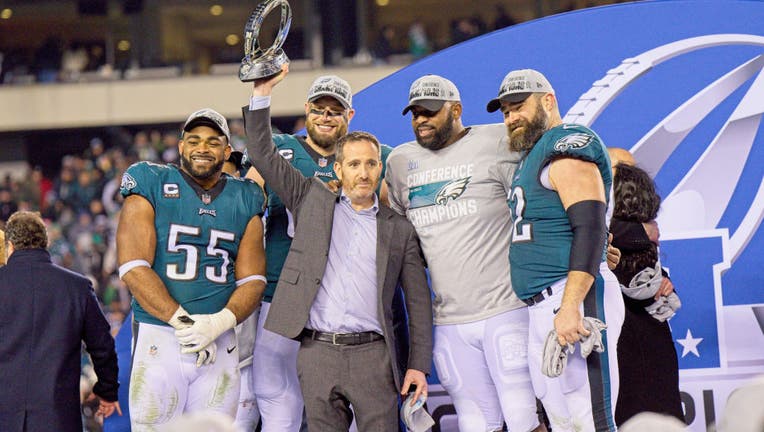 article
The Philadelphia Eagles' success last season quickly was followed by a player exodus in free agency.
The reigning NFC champions will need to replenish their roster in the NFL draft, and the Eagles are in good hands with general manager Howie Roseman.
It's officially "Howie Season" in Philadelphia, or #HowieSZN as the Eagles' boisterous fans have taken to calling the NFL offseason on social media.
Roseman's latest shrewd move came earlier this week following the club's mega-deal with franchise quarterback Jalen Hurts. Hurts and the Eagles agreed on a five-year, $255 million contract, with $179.3 million guaranteed. Yet, only $6.15 million will reportedly count against the salary cap in 2023 and just $73.25 million in the first four years of the deal.
Roseman solidified his deft draft reputation by selecting Hurts in the second round three seasons ago, and he followed that with two consecutive strong offseasons that helped the Eagles reach the Super Bowl this past season.
"I kind of try to zig a little bit when other people are zagging and just try to stay ahead of it," Roseman said recently on a podcast interview with Eagles center Jason Kelce.
The veteran Philadelphia GM has four picks this year in the top 100 with which to maneuver, including a pair of first-round selections. In addition to its own selection at No. 30, the Eagles have the No. 10 overall pick thanks to a Roseman deal with New Orleans last season. They also hold picks in the second round (No. 62) and third round (94). Philadelphia has just two other picks, both in the seventh round. For now, anyway.
The Eagles have many needs to fill, especially on defense.
They lost seven starters in free agency, five of whom helped head coach Nick Sirianni's defense finish first against the pass and second overall on defense in the NFL. Defensive tackle Javon Hargrave (11 sacks), safety C.J. Gardner-Johnson (team-high six interceptions) and middle linebacker T.J. Edwards (team-high 159 tackles) are especially big losses. On offense, running back Miles Sanders (1,269 yards, 11 TDs) and right guard Isaac Seumalo had major impacts last season.
Roseman will look to the draft to re-load.
"We're going to prioritize the things that are important to us, things that we build our team on," Roseman said at the NFL combine. "We're going to make sure those areas are strong."
That usually means the offensive and defensive lines — and quarterback. In Hurts, the Eagles already have shored up the most important position in the sport.
"If you don't have a quarterback, you're searching for one," Roseman said.
That might be particularly beneficial for the Eagles in this year's draft, which is full of high-end QB prospects. A potential early run of quarterbacks being chosen could mean that a non-QB that the Eagles covet could be there for the taking at No. 10.
If the Eagles stay true to form, Georgia standout defensive lineman Jalen Carter could be a Roseman option at No. 10.
The Eagles GM could use the No. 30 pick to trade up for Carter, or another player, if needed. Or he could trade back to acquire more picks and more value later.
PICK 'EM
The Eagles have six picks in the draft, including a pair of first-rounders. They acquired the No. 10 pick from New Orleans last season and hold their own selection at No. 30. Additionally, they have picks in the second round (No. 62), third round (94) and two in the seventh (219 and 248).
NEEDS
Running back, linebacker and safety. Philadelphia is particularly thin at safety after Gardner-Johnson and fellow starter Marcus Epps left in free agency.
DON'T NEED
Quarterback. Hurts passed for 3,701 yards, rushed for 760 and combined for 35 TDs in the 2022 regular season to finish as the MVP runner-up. He officially assumed the club's franchise quarterback moniker with his big-money deal.
BIJAN OR BUST?
Philadelphia has been abuzz with debate over whether Roseman should select Texas star RB Bijan Robinson with the No. 10 pick. The Eagles have a major need in the position after losing Sanders. Free-agent signee Rashaad Penny is a talented but oft-injured replacement. But selecting a running back in the first round would appear to go against not just Roseman's M.O., but also the club's. Philadelphia last picked a running back in the first round in 1979.
Another possible running back option for the Eagles, maybe with their No. 30 pick, is Alabama's Jahmyr Gibbs, who is coveted for his running and pass-catching ability.
DEFENSIVE OPTIONS
Other first-round possibilities to bolster the defensive line, in addition to Carter, are Iowa's Lukas Van Ness, Texas Tech's Tyree Wilson and Clemson's Myles Murphy.