Phillies score 9 in first on way to 14-3 drubbing of Reds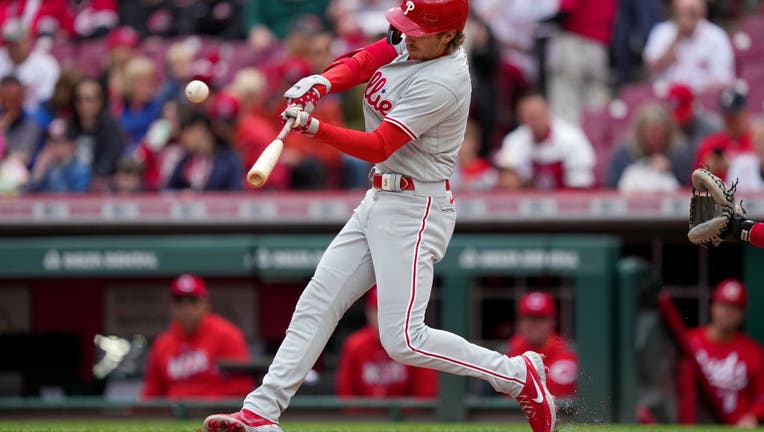 article
CINCINNATI - The Philadelphia Phillies bounced back from one of their worst losses of the season to quickly take control on the way to a 14-3 drubbing of the Cincinnati Reds and earn a split of their four-game series on Sunday.
Bryson Stott hit a lead-off home run, Brandon Marsh had four hits, Trea Turner and Alec Bohm each had three hits for the Phillies. Jake Cave tied his career high with four runs batted in as the hot-and-cold Phillies reached double figures in runs for the second time in less than a week. They beat Miami 15-3 on Monday.
The defending National League champions piled up a season-high 23 hits and have won two of their last three games after dropping four of five.
Aaron Nola (1-2) gave up five hits and three runs, two earned, with three walks and four strikeouts in six innings.
After being crushed 13-0 on Saturday, the Phillies posted nine runs against Luis Cessa in the first inning – their biggest inning since scoring 10 in the first inning of a 14-3 win over the Mets on the same date in 2019. They had a season-high eight hits in the inning.
Every Phillies' starter had at least one hit after three innings, led by Turner's three singles. Turner, who signed an 11-year contract with Philadelphia in December, scored three runs after three innings.
Philadelphia needed only two pitches to avoid a second straight shutout. Stott hit Luis Cessa's second pitch of the game 378 feet into the right field seats. Cave drove in three runs with a bases-loaded double and five other Phillies each had an RBI during the outburst.
Cessa (0-2) allowed a career-high 14 hits and 11 runs with three walks and no strikeouts in a season-low three innings.
Thirteen Phillies batted in the first inning as the Reds gave up the most runs in one inning this season. The Reds had allowed more than nine runs in a game just once in 2023.
TRAINER'S ROOM
Phillies: INF Edmundo Sosa did not start after leaving Saturday's game with a tight back.
Reds: INF Joey Votto (left shoulder and biceps surgery) is continuing his rehab in Cincinnati after being recalled Saturday from a rehab assignment with Triple-A Louisville.
UP NEXT
Phillies: RHP Zack Wheeler (0-1) is the scheduled starter for the opener of a three-game series against the White Sox in Chicago on Monday.
Reds: RHP Hunter Greene (0-0) is the scheduled starter for the opener of a three-game series against Tampa Bay in Cincinnati.