Near-average 2023 Atlantic hurricane season expected with up to 17 named storms, NOAA says
The upcoming Atlantic hurricane season is expected to be less active than recent years, with a forecast of a near-average season. 
This comes after NOAA's Climate Prediction Center released its outlook for the 2023 Atlantic hurricane season on Thursday. Forecasters said there's a 40% chance of a near-average season, a 30% chance of an above-average season and a 30% chance of a below-average season.
WHAT'S THE DIFFERENCE BETWEEN A TROPICAL DEPRESSION, TROPICAL STORM AND HURRICANE?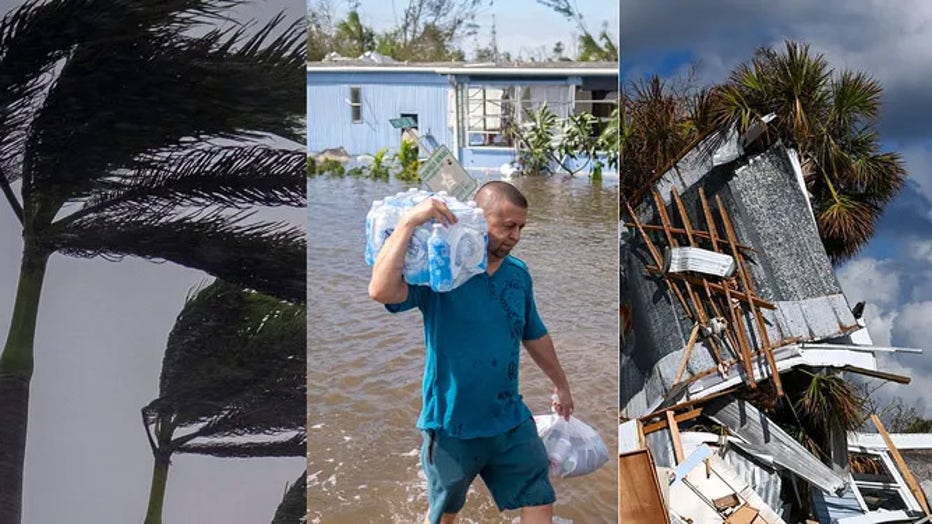 With the Atlantic hurricane season starting on June 1, now is the perfect time to prepare you and your family. (Bryan R. Smith / AFP / Getty Images)
NOAA expects 12 to 17 named storms, five to nine hurricanes and one to four major hurricanes (Category 3 or higher on the Saffir-Simpson Hurricane Wind Scale). Forecasters said they have 70% confidence in these ranges. The outlook includes the subtropical storm that already formed off the East Coast in January.
"As we saw with Hurricane Ian, it only takes one hurricane to cause widespread devastation and upend lives," FEMA Administrator Deanne Criswell said. "So regardless of the number of storms predicted this season, it is critical that everyone understand their risk and heed the warnings of state and local officials."
NOAA's Atlantic hurricane season outlook comes exactly one week from the season's official start on June 1.
Colorado State University is forecasting slightly below-average activity in the tropics. The reasoning is rooted in the El Niño pattern forming. The warming of the Pacific Ocean alters the atmospheric circulation and tends to send dry, sinking air over the central Atlantic Ocean, which can inhibit the formation of tropical storms and hurricanes.
El Niño can also trigger an increase in wind shear – the change in wind speed and/or direction with height – which makes it difficult for storms to organize.
These are the factors prompting the call for near-average tropical cyclone activity in the Atlantic for this upcoming hurricane season.
"With a changing climate, the data and expertise NOAA provides to emergency managers and partners to support decision-making before, during and after a hurricane has never been more crucial," NOAA Administrator Rick Spinrad said. "To that end, this year we are operationalizing a new hurricane forecast model and extending the tropical cyclone outlook graphic from five to seven days, which will provide emergency managers and communities with more time to prepare for storms."
WHERE TROPICAL STORMS, HURRICANES TYPICALLY OCCUR DURING EACH MONTH OF ATLANTIC HURRICANE SEASON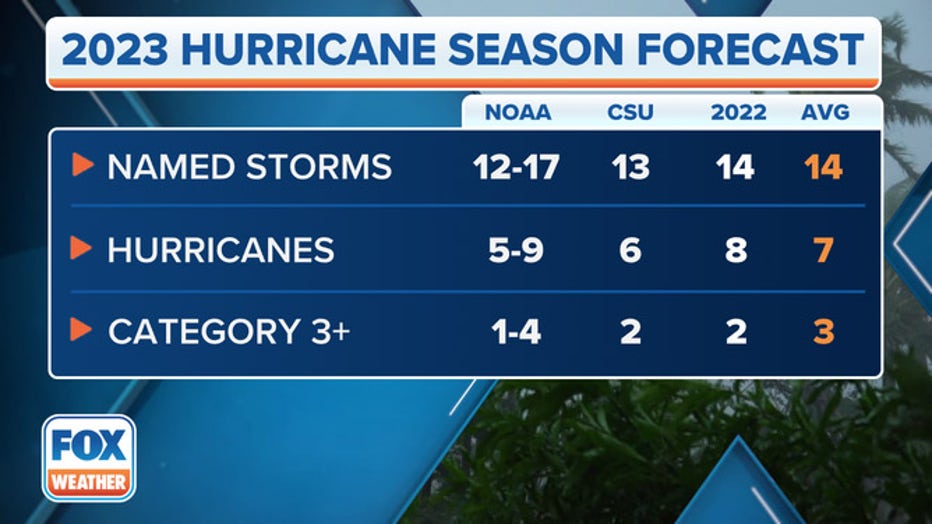 The NOAA and Colorado State University 2023 Atlantic hurricane season outlooks compared to 2022 and the 30-year averages (1991-2020). (FOX Weather)
The Atlantic hurricane season runs from June 1 to Nov. 30. The National Hurricane Center chose this six-month period because it accounts for 97% of all Atlantic tropical storms and hurricanes, according to NOAA's Hurricane Research Division.
That means only 3% of Atlantic tropical cyclones occur outside those hurricane season dates, with the majority of out-of-season activity occurring in May or December. However, there has been either an Atlantic tropical storm or hurricane every month of the year.
What are the storm names for the 2023 Atlantic hurricane season?
There are 21 names on the list of Atlantic storm names in 2023, using almost every letter of the alphabet.
WHY YOU SHOULDN'T BE ON AUTO-PILOT WHEN IT COMES TO YOUR INSURANCE THIS HURRICANE SEASON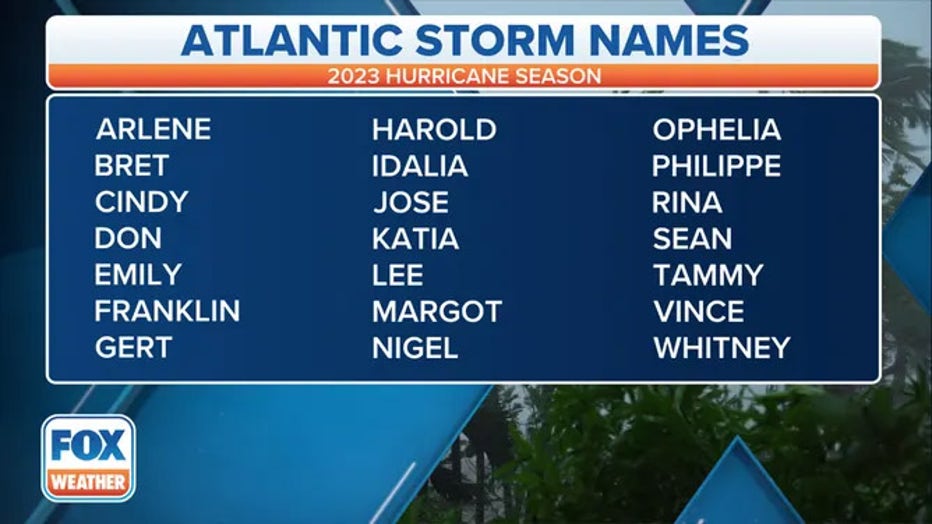 Here is the list of names for the 2023 Atlantic hurricane season. (FOX Weather)
The Atlantic hurricane season storm names in 2023 are: Arlene, Bret, Cindy, Don, Emily, Franklin, Gert, Harold, Idalia, Jose, Katia, Lee, Margot, Nigel, Ophelia, Philippe, Rina, Sean, Tammy, Vince and Whitney.
If we have an active season and run through the entire list of names, a supplemental name list will be used.
Why are hurricane outlooks important?
FOX Weather's Hurricane Specialist Bryan Norcross said these seasonal forecasts are important for two reasons.
"If we can improve seasonal forecasting, it means that we are increasing our understanding of the climate mechanisms that allow tropical systems to develop and intensify," he said. "The more we understand, the better we will be able to forecast tropical storms and hurricanes in the future."
Norcross adds that they also serve as a reminder to people living in the hurricane zone that the season is coming.
"Without them, it would be harder to get the conversation started in the spring," he said.
WHAT'S THE DIFFERENCE BETWEEN A TROPICAL DEPRESSION, TROPICAL STORM AND HURRICANE?